Our Current Study
Romans: Uncovering the Power of the Gospel and How It Saves Us Every Day
A free eight-week study in the First 5 app starting April 25.
What comes to mind when you hear the word "gospel"?
Maybe you believe in God and attend church because that's how you grew up. Maybe you decided to follow Jesus as your Savior but are unsure how to share why you made that decision or how He changed your life. Or maybe you just feel stuck in a rut doing all the "right" Christian things but not feeling the change you're longing for. If you're tired because you don't know how to overcome the patterns you feel stuck in, we wrote this study with you in mind.
No matter where you are in your walk with the Lord, the book of Romans has something to encourage you today. The gift of eternal salvation happens once, but Romans reveals how the gospel is God's power to save, shape, strengthen, satisfy and sustain us every day.
Today's Teaching
Through Heartache to Hope
Bethany Ruth
Day: 21 | Plan: Uncovering Romans
---
Today's Reading: Romans 9:1-5
Romans 9:3 (ESV) "For I could wish that I myself were accursed and cut off from Christ for the sake of my brothers, my kinsmen according to the flesh."
None of us welcomes heartache. We don't want to learn that someone we love has been in an accident or diagnosed with a devastating illness or damaged by a broken relationship. In great distress, we cry out to God as we grieve. We might even plead, as ...
Read More
First 5 Study guides
Do you have 15 minutes instead of 5 minutes for your quiet time? Study Guides are the First 5 app companion to take your daily bible study a little deeper. They include daily questions for each passage of Scripture, including reflection that applies to your life. Historical background and context to the culture are also included, with so much more.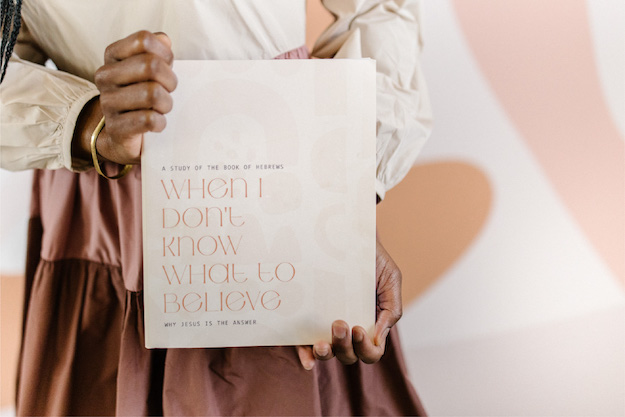 When I Don't Know What to Believe
Why Jesus is the Answer – A Study of the Book of Hebrews
Sign up here and we'll let you know when our next First 5 study and Study Guide are available.