Location:
/Waiting … in Silence/
Waiting … in Silence
Kellye Schiffner Carver
Day: 56 | Plan: When Words Fail
Today's Reading: Psalms 61-62
Psalm 62:1 (ESV) "For God alone my soul waits in silence; from him comes my salvation."
When it feels like the world is against you, what do you do?
Many find comfort in the arms of a spouse, friend or family member. Others retreat into themselves or look to things, activities or roles to feel strong and safe again.
Psalms 61 and 62 capture David's thoughts in the midst of sorrow and difficulty, but Psalm 62 also paints a picture of peace and deliverance. David's method for finding peace may seem atypical, unnatural or isolated in our world today. Instead of looking inward to ourselves or outward toward other people, David tells us to look up, to God.
David likely penned Psalm 62 as conspirators tried to usurp his throne. Amid attacks and slander, he described himself as a "leaning wall," a "tottering fence" (Psalm 62:3-4). In this fragile, inadequate human condition, David prays for deliverance, and he finds it by waiting "for God alone" (Psalm 62:1). The Hebrew word for alone, ak, means "only," "truly" or "surely." It occurs six times in the 12 verses of this psalm. (Psalm 62:1, 2, 4, 5, 6, 9) Simply put, there are no substitutes or alternatives for God.
This is the first of two critical points tucked into our key verse — that only God can provide true refuge from our tribulations. This truth tells us where to look for help. We can't trust other people or things the way we can trust God. (Psalm 62:9-10) We will ultimately be disappointed if we look to other "rescuers," but when we take refuge in the Almighty, we cannot be shaken. (Psalm 62:2, 6-8)
However, God's peace, guidance and other answers to prayer don't always arrive on our timeline. Later in our key verse lies a second point: once we know where to look, David tells us how to look.
He waits … in silence.
The Hebrew word is dumiyyah, which entails "silence, a quiet waiting, repose." Some Bible translations use the word "rest" (NIV, HCSB). David repeats this point in Psalm 62:5 with almost identical phrasing. He uses a slightly different word for "rest" — damam, which means "cease" — but again, we're told to be still and wait.
According to David's example, we intentionally and strategically position ourselves to wait on God. We sit in silence. We listen for our Father's voice. We embrace His calm. We anticipate His deliverance with a resolute trust. In fact, between verse 1 and verse 5, David transitions from "salvation" to "hope," with some translations using the word "expectation." (Psalm 62:5)
In his "MacLaren's Expositions," Andrew MacLaren, a Bible scholar and pastor, describes this as a silence of the will, mind and heart. This is not indifference or passivity in the waiting, but rather a quiet strength and courageous faith. We listen through the noise of the world — tempting though it may be — and seek God's voice instead. We bring His calm to our anxious mind and chaotic emotions. We create space in our lives for Him to speak, and we resolve to trust.
Does this process come naturally to us during difficulty? Or do we first look to ourselves or others for rescue? Perhaps a new purchase, a self-help trend or an unhealthy habit? The world offers ample opportunities to discount our faith. And although healthy stress outlets and godly counsel certainly deserve a place in our lives, only God can ultimately fill us. Nothing from human hands will truly satisfy.
In Him we trust, on Him we wait, and through Him we rest. Let's reassure our restless souls with David's words, "For God alone, O my soul, wait in silence, for my hope is from him" (Psalm 62:5).
Prayer: Heavenly Father, it is so hard for me to trust You sometimes. I get scared or anxious or impatient, and I don't wait for You like I should. Please help me to be resolute like David, looking to You for my ultimate fulfillment and waiting on Your timing. In Jesus' name, amen.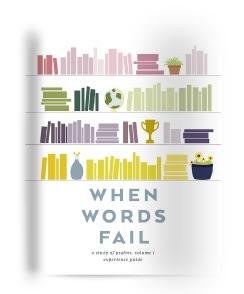 Have you been enjoying the When Words Fail First 5 study? It isn't too late to buy an Experience Guide! With unique themes, poetic structures and charts, you'll learn even more about the book of Psalms!
More Moments:
David describes God as a rock, fortress and refuge, which is a theme continued from Psalm 61.... Read More
Download the First 5 app to get the full experience