Location:
/Beyond the Betrayal/
Beyond the Betrayal
Alexandra Hoover
Day: 49 | Plan: When Words Fail
Today's Reading: Psalm 54
Psalm 54:4 (ESV) "Behold, God is my helper; the Lord is the upholder of my life."
As humans, we have a deep need to be accepted and loved.
Experiencing rejection and betrayal, particularly at the hands of a loved one, can be debilitating.
This is exactly where we find David in Psalm 54. David is walking through profound betrayal at the hands of his people. He's in the middle of battle with Saul (1 Samuel 23:19-24), and he's in hiding.
David responds to God in obedience and comes out of hiding to try and save the people of Keilah, knowing it could cost him his life. Unbeknownst to David, he was also being betrayed and rejected by another tribe — the Ziphites. (1 Samuel 23:19-20)
The Ziphites weren't just a random group of people to David. No, the Ziphites were David's people, also from the tribe of Judah. They were more than just friends; they were family.
Much to David's surprise, the Ziphites handed over his location to King Saul because of their selfish ambitions. (1 Samuel 23:19-20)
Despite the betrayal, David continued to hope in God. I imagine it wasn't comfortable or easy for David to walk in obedience and continue to obey God through his pain and hurt, but he did. He was living from the truth that God is our helper and the upholder of our lives. (Psalm 54:4)
We see a clear distinction in how the betrayal affects David and how he sees the Ziphites, as they go from being family to foes. (Psalm 54:3) What a blessing to know that even when others betray us, we can cling to the One with Whom we have a covenantal love, Whose character never changes, Who is our forever family.
Yes, David was betrayed by his tribe, fellow Judeans, but he kept moving in God's will and direction based on his love for God. What a great challenge, to release the bondage of pain and hurt tied to betrayal, in order to give honor unto a God who is worthy and good.
Friends, we can look to God — our great hope and defender — and trust that amid betrayal, our faithful God will sustain us. He is constant, and His love is deeper than any love we'll ever know. (Deuteronomy 7:9)
Prayer: Father, thank You that You hold our hearts so gently, and heal even the deepest pains of betrayal. Will you tend to those wounds that leave us hurting and help us to trust in Your constant and faithful character? We know that You are faithful and good, and we will rest in that truth. We love You, and we thank You. In Jesus' name, amen.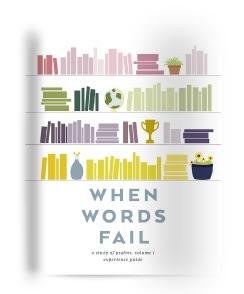 Have you been enjoying the When Words Fail First 5 study? It isn't too late to buy an Experience Guide! With unique themes, poetic structures and charts, you'll learn even more about the book of Psalms!
More Moments:
More often than not, God will ask us to face difficult things, even painful and scary things, to... Read More
Download the First 5 app to get the full experience