Location:
/Wrestling with Suffering/
Wrestling with Suffering
Wendy Blight
Day: 3 | Plan: Suffering and Sovereignty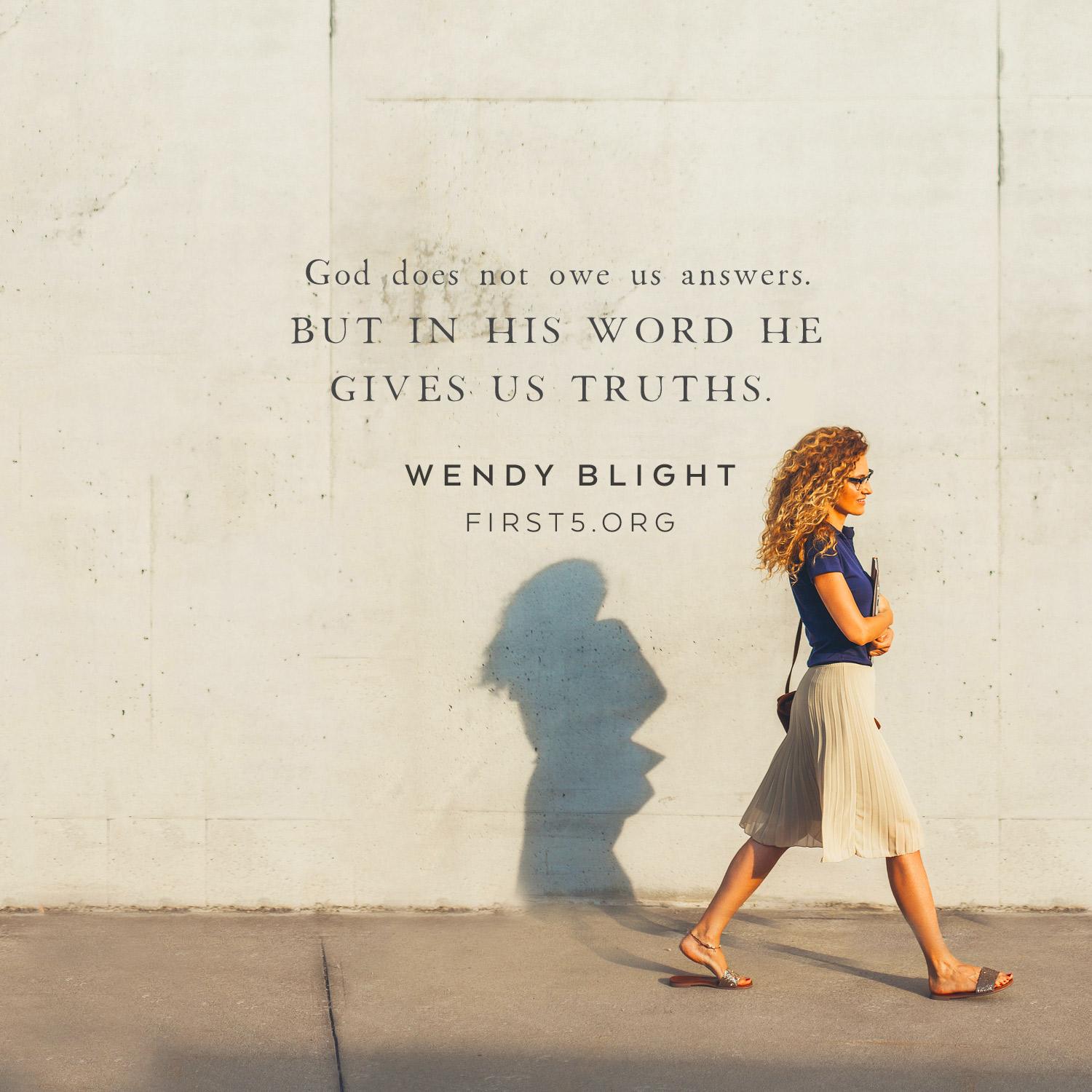 <
Today's Reading: Job 3
Job 3:11 (NIV) "Why did I not perish at birth, and die as I came from the womb?"
Have you experienced a physical or emotional wound so deep it seems nothing can soothe the hurt? Have crushing circumstances shattered your heart and your faith? Have you cried out to God and heard nothing? My friend, you are not alone.
Job is there.
Job 3 gives us a heart-wrenching glimpse into Job's heart. He wrestles with God about his devastating losses. We watch as unfathomable suffering threatens to unravel Job's trust in God. Job couldn't wrap his mind around the fact that God's conduct did not match what Job knew to be God's character.
The weight of all he had lost forced Job to wrestle with what he believed about God. He struggled reconciling the God he worshipped and feared, the God who had mightily blessed him, with the God who was now stripping him of all he held dear. In his deep grief and confusion, Job cursed the day he was born. Overcome by his immense suffering, Job forgot his abundant blessings of the past and instead focused on the hopelessness of his future.
He wanted the day of his birth erased from the calendar, as if he had never lived. Because if he had never been born, he could have avoided all his suffering.
Job next moved to the question we too ask in our darkest times. Why? Job asked God, "Why did I not perish at birth?" (Job 3:11). Why does God allow those experiencing intense suffering to go on living? Why does God give life to one He purposes to suffer?
When we probe God's Word, we find Job is not alone in questioning God. Many of God's greatest men asked why. Moses (Numbers 11:10-15); Elijah (1 Kings 19:1-16); Jonah (Jonah 4:3); and Paul (2 Corinthians 12:1-10) all questioned God in their darkest days. Even Jesus cried, "My God, my God, why have you forsaken me?" (Matthew 27:46b).
God doesn't forbid our "why" questions. It's a matter of motive and expectation. If we question because we desperately want God's perspective and kneel before Him with a humble and receptive heart, questions to God are productive and lead to a deeper faith. But if we come to God, defensively, with an angry heart, demanding our own way, it is unproductive and harmful to our faith.
God does not owe us answers. But in His Word, He graciously gives us truths to cling to and promises to pray. Because Job allowed his emotions to rule and reign over his heart, it drove him deeper into despair.
But when we yield our suffering to God, it can be a pathway to beautiful blessings. (2 Corinthians 1:3-9) Romans 5:3-4 promises, "… we also glory in our sufferings, because we know that suffering produces perseverance; perseverance, character; and character, hope."
If you find yourself in a pit, overwhelmed by discouragement and doubt, open God's Word to Psalm 40:1-3.
"I waited patiently for the LORD ; he turned to me and heard my cry. He lifted me out of the slimy pit, out of the mud and mire; he set my feet on a rock and gave me a firm place to stand. He put a new song in my mouth, a hymn of praise to our God. Many will see and fear the LORD and put their trust in him."
It's David's (the author of Psalm 40) story. It's my story, and it can be your story.
Immerse yourself in these words. Believe them. Trust them. His Word truly changes everything.
Prayer: Father, You know me better than I know myself. I don't understand why You are not moving and working in this tear-filled placed in my life. I cry and hear nothing but silence. Do You hear me, Father? Help me to trust You in this place. As I open my Bible, speak comfort and hope to my heart. Infuse me with patience to wait upon You because I know Your plan is best. In Jesus' name, amen.
More Moments:
Job 1:9-11 and Job 3:23 speak of hedges. In Job 1, in His conversation with... Read More
Download the First 5 app to get the full experience