A New Way of Living
Leah DiPascal
Day: 9 | Plan: Matthew
Today's Reading: Matthew 5:17-48
Matthew 5:17-18 (NIV) "Do not think that I have come to abolish the Law or the Prophets; I have not come to abolish them but to fulfill them. For truly I tell you, until heaven and earth disappear, not the smallest letter, not the least stroke of a pen, will by any means disappear from the Law until everything is accomplished."
As Jesus continued teaching to the crowds on the Mount of Beatitudes, He began talking about the Law. This was an uncomfortable topic for many, because most of the people there attempted to keep the Law, but failed time and time again.
In Matthew 5, Jesus openly talks about some of these sticky subjects we also would like to avoid: anger, murder, lust, adultery, divorce, false swearing, retaliation and loving our enemies.
Let's face it … it's much easier to receive a message on love, hope or joy. But these sticky subjects can make us very uncomfortable. Yet, Jesus doesn't try to skirt around the obvious or avoid talking about the hard stuff. Why? Because, if sin is in our lives, it has to be exposed and dealt with right away. Otherwise Satan will use it against us to create a stronghold and keep us from experiencing God's presence and true freedom.
As followers of Jesus, He calls us to a new way of obeying. It's so much more than following a set of rules and regulations. It's being completely transformed from the inside out. This begins by loving God with all our heart, soul, mind and strength. By renewing our mind, and placing God first in every situation, as we continually grow in a personal relationship with Him.
As we begin to know God more and understand His unfailing love for us, we will long to please Him and do what is right. We will seek God's ways above our own sinful desires and rejoice in what Jesus has done to make us righteous in God's sight.
Prayer: Heavenly Father, help me to love You with all of my heart, soul, mind and strength. I want a personal relationship with You that grows deeper and richer every single day. My heart's desire is to know You more and do Your will. Help me to walk in Your ways and know Your truth. In Jesus' name, amen.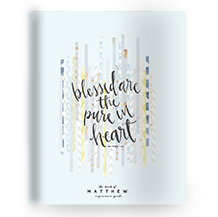 Go deeper with today's First 5 by writing in your Study of Matthew Experience Guide. Don't have one? Get yours here! Digital Download option now available for $8.
More Moments:
A little sin in your life isn't so bad. That's what Satan wants us to believe. He... Read More
Download the First 5 app to get the full experience