Live a Contrary Life
Wendy Pope
Day: 8 | Plan: Matthew
Today's Reading: Matthew 5:1-16
Matthew 5:3-10 (NIV) "Blessed are … "
Jesus is the most popular person in town. John the Baptist has prepared the way for His leadership. He has chosen disciples and now is preaching throughout Galilee. His name and His message are quite captivating. With His popularity on the rise, Jesus pulls the disciples aside for a private lesson in humility and service.
He uses eight teachings to demonstrate how the disciples can be blessed and not one of the teachings includes winning a popularity contest. In our culture we bless someone when they sneeze or bless our food before we eat. When Jesus used the word blessed He was saying so much more. Blessed means to be happy and in the position to receive favor and benefits from God.
The teachings in this chapter are commonly referred to as the Beatitudes. These instructions apply to everyone who is an expressed follower of Jesus Christ. According to Jesus:
When we have a spirit of poverty we find the security of God and His instructions.
When we lose something very precious to us we will find God's comfort.
When we are humble and gentle we will find God's power and authority.
When we hunger for God He will make all other hungers subside.
When we care for others God will care for us.
When we put God's truth inside our heart the world will see God.
When we strive for peace we will experience the family ties with God.
When we suffer for the cause of God He will be our defender.
His instructions sound delightful to our spirit yet contrary to the world in which we live. Jesus radically teaches that we can be happy and placed in a position of favor when we live contrary to what the world teaches. He sent a Helper in the person of the Holy Spirit to guide us in this high standard of living. Profound isn't it? Only through the power of the Holy Spirit are we able to live contrary to the world while remaining in complete alignment with God.
Live contrary to the world and enjoy the benefits!
Prayer: Lord, thank You for sending the Holy Spirit to help me live contrary to the world. I want to receive all the benefits You have for me. I desire to live in alignment with You! In Jesus' name, amen.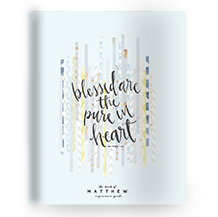 Go deeper with today's First 5 by writing in your Study of Matthew Experience Guide. Don't have one? Get yours here! Digital Download option now available for $8.
More Moments:
As we yield to Jesus' teachings, His other teachings naturally flow from us. Take the... Read More
Download the First 5 app to get the full experience