An Unlikely King
Whitney Capps
Day: 7 | Plan: Matthew
Today's Reading: Matthew 4:12-25
Matthew 4:18-19 (NIV) "As Jesus was walking beside the Sea of Galilee, he saw two brothers, Simon called Peter and his brother Andrew. They were casting a net into the lake, for they were fishermen. 'Come, follow me,' Jesus said, 'and I will send you out to fish for people.'"
Based on their understanding of Old Testament prophecy, Matthew's primary audience, the Jews, thought the Messiah would come as a king, which helps us understand why Jesus begins his public preaching with the call to repentance because the kingdom of heaven is near.
This would have made the Jews happy, because they wanted Jesus to establish a new kingdom. However, Matthew's main message in his gospel is that the King had come, but He is not what they expected, yet He is better than they imagined.
Kings could command individuals to follow simply because of their royal lineage, a promise of power or a fear of punishment. Jesus didn't use a tactic or threat. He would not lead by manipulation or coercion, but tender invitation.
And who Jesus invited first to follow Him was astonishing.
Kings surrounded themselves with the powerful, influential and wise. Yet Jesus didn't call political heavyweights or theological giants. He didn't choose the wealthy or wise.
Instead, as Jesus moved into public ministry and built His inner circle of disciples, He chose simple, hard-working faith-filled fishermen to do miraculous, life-changing work.
The first followers of Jesus were men who worked day in and day out without fanfare. Men who would rise early and work late at the back-aching, heart-breaking work of casting nets unsure of their reward. Men who had learned their trade by watching others. Men who had developed their passion through years of consistent practice.
As we read Matthew's Gospel, he wants us to see Jesus as a ruling King, the promised Messiah. But like the Jews of His day, we will be challenged by Matthew's unspoken question: Can we accept Jesus authority even if it doesn't look like we thought it would? Will we follow Him even if He doesn't call us to power or influence but to service and sacrifice?
Prayer: God, please forgive me for holding on to my ideas about Jesus' Kingdom and authority. I confess that I make Jesus an idol when I insist that He act in ways that make me comfortable, or to invite me to serve as He did. Lord, help me give up my perspective and take hold of Your purposes for me. In Jesus' name, amen.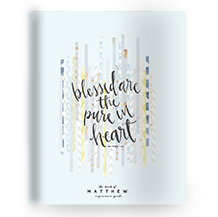 Go deeper with today's First 5 by writing in your Study of Matthew Experience Guide. Don't have one? Get yours here! Digital Download option now available for $8.
More Moments:
One of Matthew's primary purposes is to prove to the Jews that Jesus is the... Read More
Download the First 5 app to get the full experience