We Shall Not Live on Bread Alone
Wendy Blight
Day: 6 | Plan: Matthew
Today's Reading: Matthew 4:1-11
Matthew 4:3-4 (NIV) "The tempter came to him and said, 'If you are the Son of God, tell these stones to become bread.' Jesus answered, 'It is written: "Man shall not live on bread alone, but on every word that comes from the mouth of God."'"
Matthew chapter 4 opens with the Spirit leading Jesus into the wilderness. Once in the wilderness, Satan initiated an all-out assault to steal the very identity God had recently affirmed at His baptism in the Jordan. For all to hear, God said, "'This is my Son, whom I love …'" (Matthew 3:17b).
Now in the desert, Satan (the tempter) tried to destroy the deity of Christ by issuing three temptations.
Satan knew Jesus had been fasting for forty days. He knew Jesus was hungry, so he tempted Jesus to turn stones into bread. Bread that would satisfy the gnawing sensation in his belly. Just a little miracle. Use His divine power to meet His physical human need.
But Jesus knew His Father's will and always did His Father's will. Jesus knew that if He succumbed to the temptation, He would have been walking outside that will. Jesus responded with only one sentence … no lecture, no rebuke. He simply quoted His Father's words:
"It is written: 'Man shall not live on bread alone, but on every word that comes from the mouth of God'" (Matthew 4:4, quoting Deut. 8:3b).
Satan challenged Jesus to perform a miracle in order to meet his physical need. Jesus refused, STANDING on the Word of God. The Spirit led Jesus into the wilderness to model for us how to battle temptation and to equip us with the tools needed to claim that same victory over the tempter.
When Satan engages us in battle, we must KNOW and STAND boldly and confidently on the Word of God.
With every temptation, Jesus answered back, "It is written," quoting God's Word. That is our weapon as well. It is why we meet here each day. To read, know, and hide God's Word in our hearts so we can combat every lie with the truth.
Prayer: Heavenly Father, Jesus has taught me that Your Word is the key to any battle I may face. Help me to hide it in my heart so that when I need it, I can say, "It is written." Through the mighty working of Your Spirit, may Your Word be always on my tongue, ready to speak and pray into any situation … any temptation … any battle. In Jesus' name, amen.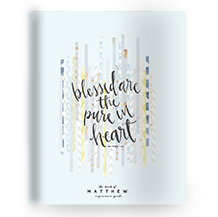 Go deeper with today's First 5 by writing in your Study of Matthew Experience Guide. Don't have one? Get yours here! Digital Download option now available for $8.
More Moments:
God's Word is like a seed. When we pray that Word into our lives … into the lies …... Read More
Download the First 5 app to get the full experience