An Uncommon Encounter
Leah DiPascal
Day: 5 | Plan: Matthew
Today's Reading: Matthew 3
Matthew 3:13-15 (NIV) "Then Jesus came from Galilee to the Jordan to be baptized by John. But John tried to deter him, saying, 'I need to be baptized by you, and do you come to me?' Jesus replied, 'Let it be so now; it is proper for us to do this to fulfill all righteousness.' Then John consented."
John the Baptist would be considered unusual in any generation. He lived in the Judean wilderness, wore clothes made from coarse camel hair and consumed a daily organic diet of locusts and wild honey.
Yet John's preaching drew crowds from all over the region. And as people gathered in the wilderness to hear John preach, he told them to confess their sins, repent and be baptized, because the kingdom of heaven was near.
John certainly declared a bold statement of faith as he proclaimed the coming of the Messiah. But when Jesus actually showed up and wanted to be baptized John suddenly became hesitant and felt incredibly unqualified.
Jesus lived a sinless life and had no reason to repent. I'm sure John was wondering why baptism would have any significant purpose for the Son of God? In those defining moments, Jesus was not only thinking of His Heavenly Father, He was also thinking of us.
Waist deep in the waters of the Jordan River, Jesus was doing the will and furthering the work of His Father. Jesus took one step closer to completing His salvation mission, which was established before the foundation of the world, and prophesied throughout the Old Testament.
It was in this God-ordained encounter that Jesus publically launched His ministry and confirmed John's prediction that He was the mighty One who would baptize "with the Holy Spirit and fire" (Matthew 3:11b).
Jesus willingly humbled Himself by being baptized—all the while knowing He was completely holy, blameless and without sin.
Setting an example for us, Jesus always did the will of the Father, no matter what it required of Him.
Are we willing to be like Jesus—to lay down our wants and desires to serve our Heavenly Father? To trust His ways instead of our own, and fulfill His purposes no matter the cost?
Prayer: Heavenly Father, help me to be more like Jesus. To follow You unconditionally and do Your will regardless of what it might require of me. I can't do this in my own strength, but believe with all my heart that as Your Spirit works in me, I can accomplish the assignments You've given me today and bring honor to Your Name. In Jesus' name, amen.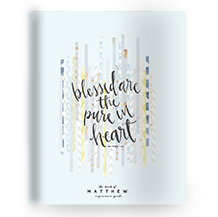 Go deeper with today's First 5 by writing in your Study of Matthew Experience Guide. Don't have one? Get yours here! Digital Download option now available for $8.
More Moments:
"As soon as Jesus was baptized, he went up out of the water. At that moment heaven was... Read More
Download the First 5 app to get the full experience