Divine Guidance
Krista Williams
Day: 4 | Plan: Matthew
Today's Reading: Matthew 2:13-23
Matthew 2:20 (NIV) "Get up, take the child and his mother and go to the land of Israel, for those who were trying to take the child's life are dead."
Imagine walking through your day in step with God. In Matthew 1 and 2, Joseph and the Magi were all in step with God as they followed His guidance.
The Magi followed the star in search of the King of the Jews. Then they followed God's Word spoken through the prophets, which led them straight to Jesus. When they were warned to go home a different way because of Herod, they obeyed. God protected them as they followed His instructions.
The more they followed God's leading, the clearer His instructions became to them.
Next we see Joseph continue to follow God's guidance (Matthew 2:13-23). Every time God told Joseph to get up, take his family and go, Joseph went. From Egypt to Israel and then on to Nazareth, Joseph carefully followed God's instructions. He did what God told him to do, and went where God told him to go.
Joseph trusted God without borders or hesitation. He was confident in God's care, and humbly took instruction from God.
Just like with the Magi, Joseph's immediate obedience to God's guidance resulted in God's protection and care. It affirms for me that following God's guidance will always lead me to a safer place than my decisions will!
God always leads rightly. If you and I want to be safe in the protective will of God, we have got to follow His guidance.
But how do we follow Him? How do we know where He is leading and guiding us? We must:
Know His Word
Continually seek His wisdom and guidance
Wait on His leading
Ask the Holy Spirit to keep you sensitive to His voice
And when He shows you the next step, obey!
Godly wisdom will increase as we obey God's Word and seek to walk with Him step by step through our day.
When we act on the truth God gives, He will give us more truth.
Prayer: Father, You are sovereign and You are wise. Thank You for Your divine guidance in my life. Help me be sensitive to Your leading, give me the desire to obey quickly, and grant me the courage to step out in faith and follow where You lead. In Jesus' name, amen.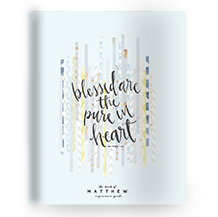 Go deeper with today's First 5 by writing in your Study of Matthew Experience Guide. Don't have one? Get yours here! Digital Download option now available for $8.
More Moments:
What about the hatred and horror of Herod in this chapter? What about the massacre of the baby... Read More
Download the First 5 app to get the full experience