The Truth of His Love
Lysa TerKeurst
Day: 35 | Plan: Matthew
Today's Reading: Matthew 26:36-75
Matthew 26:56b (NIV) "Then all the disciples deserted him and fled."
When I read this scripture my heart aches. How could they? And, why?
They had even promised to stay with Him no matter what it cost them just a few verses earlier: "But Peter declared, 'Even if I have to die with you, I will never disown you.' And all the other disciples said the same" (Matthew 26:35).
Wow. I guess a lot can happen in just 21 verses.
As I read those 21 verses between their declared devotion to their devastating desertion, there are some verses we must look at.
In Matthew 26:53-54 Jesus is explaining to the disciples why they must not fight back with swords and resistance: "Do you think I cannot call on my Father, and he will at once put at my disposal more than twelve legions of angels? But how then would the Scriptures be fulfilled that say it must happen this way?"
Jesus is telling the disciples He has the power to change this, but is choosing not to.
The disciples could look at this one of two ways:
1. Disillusionment and utter disappointment. If this is the lens through which they see these events unfold, no wonder they fled. How could Jesus make a choice like this? They had ideas about what should happen but they certainly didn't include this scene as part of the plan.
I so relate to this kind of thinking. When something happens in my life that catches me off guard with pain and hurt, it's hard to see that it could be part of a bigger plan to bring about something good. I want comfort. I want relief. I want the hardship to go away.
And when things don't quickly turn around, I can catch myself wondering, "How can a good God let this be happening?"
Ever been there?
Sadly, my response has sometimes been just like the disciples'. I walked away from Him when I didn't understand Him.
But there is another lens through which to consider our circumstances.
2. Love. If we predetermine that no matter what happens we are going to stand on the truth that God loves us, then we can filter everything through that reality. His love is a fact that doesn't change, not a feeling that sways with situations.
His love is a certainty above every circumstance.
And it was His love for us that kept Him on the path to the cross. Without the cross there would have been no death, no resurrection and no hope.
The disciples didn't understand and many times we won't either.
But can I whisper a truth to whatever hurt is in your heart today? Deserting Him will not give you any of the comfort or relief you are looking for.
Hope is only found in Him.
Stay with Jesus. Filter your situation through the reality of His love. And whatever you don't understand, can't process or feel like you can't bear one more day … declare His name and speak His hope over those hardships.
Prayer: Heavenly Father, I acknowledge that all the power I need is in the name of Your Son, Jesus. I declare His name to be higher than any name I have given this situation. I will not declare hopelessness or fear or anxiety, or anything else threatening to make me run from Jesus. I declare all hope, all courage, all assurance, all power in Jesus. In Jesus' name, amen.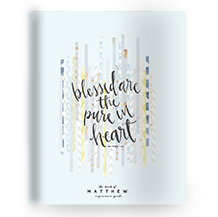 Go deeper with today's First 5 by writing in your Study of Matthew Experience Guide. Don't have one? Get yours here! Digital Download option now available for $8.
More Moments:
Have you ever found yourself in a situation where you knew what you were supposed to do, but it... Read More
Download the First 5 app to get the full experience