A Meal to Remember
Whitney Capps
Day: 34 | Plan: Matthew
Today's Reading: Matthew 26:1-35
Matthew 26:26 (NIV) "While they were eating, Jesus took bread, and when he had given thanks, he broke it and gave it to his disciples, saying, 'Take and eat; this is my body.'"
It's nearly the end. Jesus is preparing for the cross. Reading Matthew's gospel, it's easy to think we are at the end of a 33-year story. Everything in Jesus' life has been building toward these next few days.
But this story didn't begin with Jesus' birth; it goes back hundreds of years. Throughout Scripture we can see the beautifully precise plan of God. In the past, Jews would have eaten a Passover lamb to commemorate when God first led His people out of slavery.
And He's about to do it again.
As the disciples take this Last Supper with Jesus, He wants them to see that eating His "body" is the new command of the perfect Passover Lamb.
The lamb's blood covered their sin.
In Exodus 12 God gave instructions to Moses for the first Passover. The Israelite slaves in Egypt were to select a lamb, kill it and paint its blood over their doorposts. During the night of Passover, the blood would be evidence of their faith in God's promise and protection. God would judge the disobedient Egyptians by killing the firstborn son of their households, but because of the blood on the Israelites' doorposts, God would "pass over" their homes and spare their children.
The lamb's body sustained their lives.
The lamb wasn't just a sacrifice, but also a sustaining meal. After covering their doorposts, they were to cook the meat of the lamb and eat it. This meal would give the Israelites the strength they would need to leave Egypt and walk from slavery to freedom. They ate the sacrificed lamb as a reminder that God had set them free and provided for them in the wilderness. He was both their Redeemer and Sustainer.
It's hard to know if the disciples fully understood what Jesus was saying to them, foreshadowing His death as their final Passover Lamb. Isn't that the way it often goes in our lives? We don't fully understand what God is doing in the moment, but when we look back we see clearly His faithful provision.
Blood was required to pay the penalty of sin. Jesus' broken body and innocent blood were the final solution for your sin and mine. But His death doesn't just protect us from the penalty of death and punishment. It also promises us purpose and hope in life.
Are you protected from the penalty of death by believing in Jesus—Who He is and what He did? Do you honor Him as your sacrificial Lamb? I pray you do. Life-changing as this promise is, Jesus wants to nourish and sustain you as well. Do you take in, devour, feast on His Words to help you on your journey?
Prayer: Jesus, thank You that You are the Bread of Life. I want to take in the truth of who You are, and let that truth give me power for today's challenges. I want You to sustain me when I face today's temptations. Help me to remember daily what You did for me in dying on the cross. In Jesus' name, amen.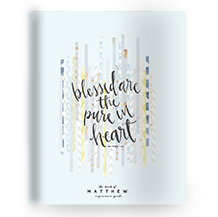 Go deeper with today's First 5 by writing in your Study of Matthew Experience Guide. Don't have one? Get yours here! Digital Download option now available for $8.
More Moments:
Several critical events happen in Matthew 26. The chief priests gather to plot Jesus'... Read More
Download the First 5 app to get the full experience