The Least of These
Wendy Pope
Day: 33 | Plan: Matthew
Today's Reading: Matthew 25:31-46
Matthew 25:40 (NIV) "The King will reply '… Truly I tell you, whatever you did for one of the least of these brothers and sisters of mine, you did for me.'"
Jesus, the greatest storyteller who ever lived, tells of a king who recognized his subjects who had shown kindness. Even though this is a parable, we find its central truth applicable.
This king's plan was to give a portion of his treasure as an inheritance to those who had shown kindness to the "least of these." The least of these are defined as being smaller in rank, size and importance. His servants had clothed, fed and nursed those who were less fortunate.
Perhaps my favorite part of the story is the response of the servants when the king told them their service was actually for him.
They replied "Lord, when did we see you hungry and feed you, or thirsty and give you something to drink. When did we see you a stranger and invite you in or needing clothes and clothe you?" (Matthew 25:37-38).
It's obvious the king's servants weren't showing kindness to the less fortunate in order to be recognized. They gave assistance to those in need from hearts of compassion, not selfish ambition. They cared for others completely unaware their master would see.
In our lives, Jesus is our King. As we show kindness to the less fortunate, we are serving Jesus and His kingdom. One day, like the king in the parable, Jesus will distribute an inheritance to those who showed kindness and compassion to the least of these.
It would be easy to argue that this passage supports a works-based salvation since the king rewards those who cared for the least of these. Followers of Christ aren't saved by works but by grace through faith (Ephesians 2:8). Our service to others shows our salvation, they do not purchase it. As our faith grows we begin to see the needs of others and our love for God compels us to offer assistance.
Prayer: Lord, thank You for my salvation through grace. I ask you to help me see the needs of others and stir in me a desire to serve without being seen. In Jesus' name, amen.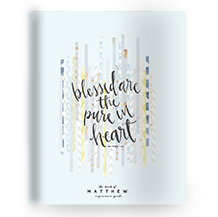 Go deeper with today's First 5 by writing in your Study of Matthew Experience Guide. Don't have one? Get yours here! Digital Download option now available for $8.
More Moments:
In Matthew 25: 1-13 we read of ten virgins awaiting their bridegroom. The virgins represent... Read More
Download the First 5 app to get the full experience