Readiness at His Return
Krista Williams
Day: 32 | Plan: Matthew
Today's Reading: Matthew 25:1-30
Matthew 25:13 (NIV) "Therefore keep watch, because you do not know the day or the hour."
Jesus is coming back! Oh, what if it were today? The thought of His return makes my heart leap with joy! How about you? If Jesus returned today would you be ready?
While no one knows the day or hour, we should live with the anticipation that His return could happen at any moment. Jesus tells us we are to keep watch and be ready.
In fact, Jesus wants to be so sure we understand the importance of being ready for His return He taught about it in great detail.
In the Parable of the Ten Virgins (Matthew 25:1-13), five wise virgins were prepared for their bridegroom's coming even though it was delayed. The foolish five, who were not prepared, were frantic at his coming. The ready ones went with him to the feast. But those who were not ready were shut out, and the bridegroom said, "I tell you the truth, I don't know you."
This parable teaches that those who are not ready for Christ's return will be shut out from His presence. Therefore, readiness for Christ's return is crucial.
However, being ready and waiting for His return does not mean we sit around and do nothing. In fact, waiting for Jesus requires faithfulness. It requires diligence.
Jesus then used the parable of the Talents in Matthew 25:14-30, to teach the importance of living faithful, productive lives while we await His return.
There were two servants who were faithful with what the Master had entrusted to them and they received their Master's commendation of "well done." They were wise investors whose investments produced dividends for their Master's glory.
The third servant hid what was entrusted to him. At the Master's return, he gave it back to the Master with nothing more. He was condemned as a wicked, lazy, worthless servant.
Being ready for Christ's return means being about His interests now, not our interests. It means exercising responsibility and living a life that counts for Christ.
Prayer: Lord, I can't wait for Your return! Still, my heart aches for those who are not ready. Help me diligently and faithfully share the truth You have entrusted to me so that others can be ready for Your return too! I ask if anyone is reading this right now and they are not ready, work in their hearts today. In Jesus' name, amen.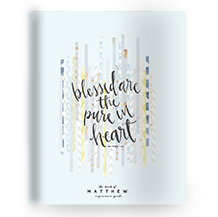 Go deeper with today's First 5 by writing in your Study of Matthew Experience Guide. Don't have one? Get yours here! Digital Download option now available for $8.
More Moments:
In the Parable of the Talents, the Master condemned the worthless servant for his laziness. He... Read More
Download the First 5 app to get the full experience