When You Least Expect It
Leah DiPascal
Day: 31 | Plan: Matthew
Today's Reading: Matthew 24:32-51
Matthew 24:35-36 (NIV) "Heaven and earth will pass away, but my words will never pass away. But about that day or hour no one knows, not even the angels in heaven, nor the Son, but only the Father."
When Jesus came to earth in the form of a baby it was a relatively quiet and obscure event. The only witnesses were Mary, Joseph, a few shepherds and a host of angels from heaven (Luke 2:1-21). Eventually, some wise men showed up, but for the most part, Jesus' birth was an unknown occasion to mankind. That will not be the case when Jesus returns.
In Matthew 24, we learn Jesus' return will be undeniable and obvious to everyone. However, Scripture tells us no one knows the actual day or hour. Not even the angels or the Son. Only the Father knows. But one thing is for sure … Jesus is returning!
Jesus Himself tells us in Matthew 24:29-31 what will take place. When we read these verses we may become overwhelmed, afraid or even terrified. But these signs and events are made known to us so that we can instead become wise.
Jesus tells us to stay awake. (Matthew 24:42)
Jesus tells us to be ready. (Matthew 24:44)
Jesus tells us to be faithful. (Matthew 24:45)
Staying awake means to continuously take notice and be aware of what's happening around us and in our world today. Are global events, changes in creation and shifts in the attitudes of mankind lining up with the signs that Jesus shared with His disciples?
Being ready means we recognize, repent and receive Jesus as Lord and Savior now. Are you following and obeying Jesus today or putting off making these life-changing, eternal living decisions until tomorrow?
Being faithful means we continue to complete the work God has called us to. Are you living out the assignments God has given you? Is your lifestyle pointing others to Jesus? Are you sharing His words, love and saving grace with those around you?
Jesus' return will be swift and sudden. As believers in Christ, it is not our responsibility to guess the day of His return. Instead, we must be awake, ready and faithful for when that day finally comes.
Prayer: Heavenly Father, help me to be awake, ready and faithful as I expectantly wait for the return of Your Son, Jesus Christ. As I watch for the signs and follow Your leading, equip me with Your Word and empower me with Your Holy Spirit, so that I can point others to You. In Jesus' name, amen.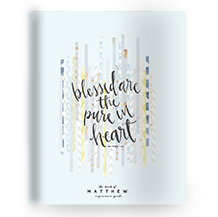 Go deeper with today's First 5 by writing in your Study of Matthew Experience Guide. Don't have one? Get yours here! Digital Download option now available for $8.
More Moments:
End times events and Jesus' return are not the end, but the beginning. Revelation... Read More
Download the First 5 app to get the full experience