Spoiling the Ending
Whitney Capps
Day: 30 | Plan: Matthew
Today's Reading: Matthew 24:1-31
Matthew 24:24-25 (NIV) "For false messiahs and false prophets will appear and perform great signs and wonders to deceive, if possible, even the elect. See, I have told you ahead of time."
Do you hate it when someone spoils the ending for you? It kind of takes the dramatic tension out of the experience. That stinks if you are watching a movie or reading a book, but if you are living the drama of relational tension or catastrophic loss, knowing the end can be a great comfort!
The primary purpose of prophecy is to build a framework where the people of God will see that all of history belongs to Him. It is "His-story." And His story unfolds by His authority.
A second purpose of prophecy is to give comfort to those to whom the prophecy is given. While many prophetic passages (like this one) are troubling and ominous, the comfort is in knowing that the Lord controls what will happen. And He brings all of human history to a glorious conclusion where He reigns and we reign with Him!
The end is good, GREAT even. But yes, like the early church, we live in the in-between. We know the end of the story but there are harrowing, hard days ahead.
Jesus tells this small group of followers that false prophets will rise up, and the love of many will grow cold. But that's not all. He tells His inner circle that their great temple would fall and no stone would be left on top of another. How sobering this passage must have been.
Prophecy became reality with the destruction of the Temple of Jerusalem within 10 to 15 years of Matthew's gospel writing. And Jesus predicted it all in startling detail. Rome completely demolished the spiritual and national treasure of God's chosen people.
Think about how devastating this would be for the infant Christian church. Christians would be dispersed, enslaved and martyred. But they had more reason to hope and persevere than ever—because their risen, victorious Jesus had miraculously told them the future ahead of time. He had spoiled the ending; if they would trust Him they could live without the tension of watching the story unfold.
This is also our hope while we live in the hard in-between. When life gets difficult, when the foundation of our faith crumbles or the infrastructure of our independence is destroyed, will we remember what Jesus said? He promised that this world would bring us trouble, but He has overcome every pain, grief, sorrow or hardship this world can throw at us (John 16:33). Will you trust Jesus' plan and the victory He promised to those who persevere?
Prayer: Oh Father, help me trust my unknown future to You, the known God. I confess that I can be desperate to have all the details of what's in store for me, my family, even the world. I can also get discouraged when life gets hard. Thank You for passages like this that remind me You control history, and everything will all happen in Your time and for Your Glory. In Jesus' name, amen.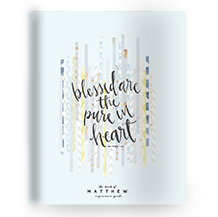 Go deeper with today's First 5 by writing in your Study of Matthew Experience Guide. Don't have one? Get yours here! Digital Download option now available for $8.
More Moments:
Talk about end times can create a lot of conflict and discomfort. It's all so... Read More
Download the First 5 app to get the full experience