Authentic Worship
Wendy Pope
Day: 3 | Plan: Matthew
Today's Reading: Matthew 2:1-12
Matthew 2:11 (NIV) "On coming to the house, they saw the child with his mother Mary, and they bowed down and worshiped him."
Some call them Magi. Others call them Wise Men. We even call them Visitors. But rarely do we call them Worshipers.
Few details are known about these travelers from afar, yet their story made the Bible. Despite the fact that the wise men or Magi were not followers of God, they were compelled to see this king of the Jews. The length or cost of the trip was of little concern to them.
After traveling hundreds of miles they reached Jesus. They didn't ask countless questions. Instead, they gave Jesus their greatest treasures. Immediately they recognized His majesty and bowed to worship Him. They worshiped Jesus for who He was not for what He could do.
How often do I worship Jesus just because He is Jesus? The ugly truth is sometimes I'm guilty of selfish worship and "what's in it for me" praise. Rather than worshiping God for Who He is, I quickly sing a song then go into an extensive list of what He can do for me. Unlike the travelers, my worship costs me nothing.
The Worshiping Wise Men came seeking the King. Let us be like them and seek to worship Him with all we are.
Prayer: Lord, I want to worship You authentically, holding nothing back. Forgive me for the times I have not worshiped You because of something You haven't done for me. You are worthy of my praise! In Jesus' name, amen.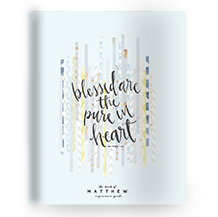 Go deeper with today's First 5 by writing in your Study of Matthew Experience Guide. Don't have one? Get yours here! Digital Download option now available for $8.
More Moments:
Let's look at Matthew 2:12, "And having been warned in a dream not to go back to... Read More
Download the First 5 app to get the full experience