Finger Pointing Faith
Wendy Pope
Day: 29 | Plan: Matthew
Today's Reading: Matthew 23
Matthew 23:5 (NIV) "Everything they do is done for people to see: They make their phylacteries wide and the tassels on their garments long."
The Pharisees were a pious group who held true to the literal interpretation of the Torah or Law of Moses. Jesus didn't have a problem with their interpretation of or devotion to the law. His problem was the hypocrisy of their actions. They had finger-pointing faith.
A hypocrite is someone who pretends to have values, morals and religious beliefs. The Pharisees were more committed to pointing out the shortcomings of others than living authentically. Jesus saw their pretending and wasn't pleased.
God is more concerned about us being holy than looking holy. For the Pharisees, faith was all about outward appearance.
When our hearts are fully committed to God, we become God-focused rather than me-focused. Pointing others to Jesus is more important than having others point to us. Pride is checked at the door and humility rules.
Knowing Scripture is much easier than living Scripture. When we live Scripture our comfort zone is challenged and authenticity is tested. The Lord might require you to privately offer forgiveness to someone who has hurt you, then keep the entire conversation to yourself. The Pharisees failed the test and Jesus called them out.
I've never been a good test taker. This is one test I pray I pass. How about you?
Prayer: Lord, forgive me if I have been puffed up and finger pointing in my faith. I pray the desire of my heart becomes God-focused so that all I say and do points others to You. In Jesus' name, amen.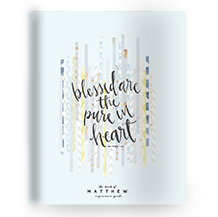 Go deeper with today's First 5 by writing in your Study of Matthew Experience Guide. Don't have one? Get yours here! Digital Download option now available for $8.
More Moments:
Phylacteries were small boxes designed to hold Scripture. The Jewish people tied these tiny... Read More
Download the First 5 app to get the full experience