The Greatest Commandment
Wendy Blight
Day: 28 | Plan: Matthew
Today's Reading: Matthew 22
Matthew 22:36 (NIV) "'Teacher, which is the greatest commandment in the Law?'"
In Matthew 22, we find Jesus engaged in a conversation with a Pharisee, an expert in the Law. He asked Jesus, "Which is the greatest commandment in the Law?"
Jesus answered, quoting the "Shema," the Jewish confession of faith found in Deuteronomy 6:4-5. Jesus' answer revealed that the greatest commandment derived from the very first commandment God gave to Moses:
"Jesus replied: '"Love the Lord your God with all your heart and with all your soul and with all your mind." This is the first and greatest commandment. And the second is like it: "Love your neighbor as yourself." All the Law and the Prophets hang on these two commandments.'"
God calls us to love Him with all that we are and have—heart, soul, mind and strength. This is more than a feeling, an act of willpower or a decision. If we love only with feeling, it ebbs and flows depending on our circumstances. But when we make an intentional decision to love, when we commit to love God above all else, that love implants itself in the fabric of our being. And even when hard times come, it remains.
It's an all-consuming love that our fallen natures cannot manufacture. It springs forth from God, from His very Spirit who lives and breathes within us. It's the kind of love that when nurtured, seeps into the marrow of our bones, transforms us and moves our souls in unimaginable ways.
King David loved God with this kind of love and, in the midst of running for his life, poured his love out in prayer:
"Oh, God, you are my God,
earnestly I seek you;
I thirst for you,
my whole being longs for you,
in a dry and parched land
where there is no water.
I have seen you in the sanctuary
and beheld your power and your glory.
Because your love is better than life,
my lips will glorify you.
I will praise you as long as I live,
and in your name I will lift up my hands" (Psalm 63:1-4, NIV).
Prayer: Heavenly Father, I want to love You this way. Ignite my heart with an all-consuming love for You. Give me wholehearted devotion to surrender everything to You. In You I want to live and move and have my being. In Jesus' name, amen.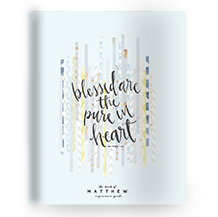 Go deeper with today's First 5 by writing in your Study of Matthew Experience Guide. Don't have one? Get yours here! Digital Download option now available for $8.
More Moments:
The Shema, found in Deuteronomy 6:4-9, is the central prayer in the Jewish prayer book (Siddur)... Read More
Download the First 5 app to get the full experience