Will You Celebrate or Cling to Sin?
Krista Williams
Day: 27 | Plan: Matthew
Today's Reading: Matthew 21
Matthew 21:43 (NIV) "Therefore I tell you that the kingdom of God will be taken away from you and given to a people who will produce its fruit."
As Jesus rode into Jerusalem on a donkey, the crowds cheered. They spread out their coats and covered the road with branches. Together they shouted, "Hosanna to the Son of David! Blessed is he who comes in the name of the Lord! Hosanna in the highest!" (Matthew 21:9)
He proceeded to make His way to the temple court. The whole purpose of the temple court was to give the "outcasts" a chance to learn about God. But it had become a marketplace where vendors took advantage of weary travelers. It was a place of price gouging, extortion and sin.
When Jesus saw this, He immediately drove out the corrupt moneychangers and said, "My house will be called a house of prayer, but you are making it a 'den of robbers.' " (Matthew 21:13)
After He had finished cleansing the temple, He turned to heal the blind and the lame as they came to Him. It was a wonderful sight to witness the healing and wholeness Jesus extended to the people. You could hear the children in the background as they continued to celebrate with shouts of praise.
God is honored when people have a chance to learn about Him. He is honored by cleansed lives. He is honored when people come to Him to be made whole. He is honored when His people are committed to prayer and celebrate Him with praise.
But not everyone joined the celebration that day. As a matter of fact, Scripture tells us the religious leaders were indignant (Matthew 21:15). That means they were irate. They were outraged and offended. They were furious and frustrated.
They refused to humble their hearts and admit Jesus has the authority to cleanse, heal and forgive. Instead, they kept clinging to their desire to be in charge and would not come to Him. That is what sin is, clinging to our own desire, our own ideas.
Jesus made it clear that tax collectors and prostitutes, those who were known sinners, were entering the kingdom of God ahead of the religious leaders. Why? They were repenting of their sin and turning from it to follow Jesus. Something the religious leaders refused to do.
The religious leaders wanted no part of His cleansing and forgiveness. They responded to Him in anger instead of repentance. They chose to cling to their sin.
As a result of their choice, Jesus said, "Therefore I tell you that the kingdom of God will be taken away from you and given to a people who will produce its fruit" (Matthew 21:43).
Every day you and I are faced with a choice. We can cling to our sin, or we can come to Jesus for cleansing and forgiveness. We can hold tightly to our pride, or we can let repentance produce fruit in our lives (Matthew 3:8).
When we choose to come to Him, our lives become useful and productive in His hands. And that, my friend, gives us reason to celebrate!
Prayer: Lord, in Your mercy reveal any areas of sin in my life. Point out the places where I am clinging to my pride. Show me where I want to be in charge and I am refusing to let go. Pry open my heart. Cleanse me. Help me turn to follow You. Make my life useful and productive for You. In Jesus' name, amen.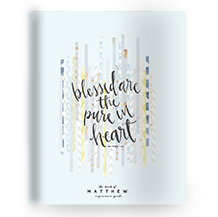 Go deeper with today's First 5 by writing in your Study of Matthew Experience Guide. Don't have one? Get yours here! Digital Download option now available for $8.
More Moments:
As believers, Scripture tells us our bodies are the temple of the Holy Spirit (1 Corinthians... Read More
Download the First 5 app to get the full experience