You Are Valuable
Leah DiPascal
Day: 25 | Plan: Matthew
Today's Reading: Matthew 19
Matthew 19:13-14 (NIV) "Then people brought little children to Jesus for him to place his hands on them and pray for them. But the disciples rebuked them. Jesus said, 'Let the little children come to me, and do not hinder them, for the kingdom of heaven belongs to such as these.'"
Imagine being a child again and your parents taking you to see Jesus. How would you feel being shooed away and dismissed as if you were nobody? As if you weren't good enough to spend time with Him.
I wonder why the disciples rebuked the little children and tried keeping them away from Jesus? Maybe they figured these little ones were in the way, being disruptive or simply an unwanted nuisance.
Had the disciples already forgotten the teaching Jesus had just shared with them in Matthew 18 about the importance of children and how they demonstrate humility and faith considered as "greatest in the kingdom of heaven"? (Matthew 18:4).
Maybe the disciples assumed these children had nothing to offer or valuable to give.
Moments later a rich man approached Jesus, asking how he could gain eternal life. None of the disciples rebuked or kept him from engaging with Jesus. Maybe it's because they viewed this wealthy man as someone of great importance and significant value.
The rich man confidently told Jesus how he had kept the law and didn't break any of the commandments. But when Jesus told him the additional requirements of being perfect—to go and sell all his possessions to the poor and follow Him—the man went away sad because of the great wealth he had acquired (Matthew 19:21-22).
Jesus wasn't asking the man to be perfect, but by posing the question it exposed the real hidden treasure of the man's heart. When faced with an option to choose Jesus or his worldly possessions, the man chose temporary wealth over eternal life.
As children of God, our value is never based on how much money we make, what kind of job we have or how many earthly possessions we've acquired. God wants us to come to Him with child-like faith, having a humble heart just like those little children whose parents brought them to Jesus.
Jesus will never shoo you away or dismiss you like others in this world may do at times. You are precious and valuable to Jesus and you are worthy, because you belong to Him.
Prayer: Heavenly Father, thank You for loving me and allowing me to come directly to You without any hindrances from others. Help me remember that my value is not based on my own accomplishments or earthly possessions, but rather on the fact that I am Your child. Give me a humble heart to serve You faithfully and to always put You first in my life. In Jesus' name, amen.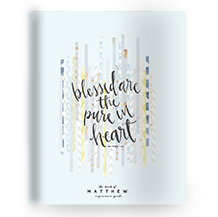 Go deeper with today's First 5 by writing in your Study of Matthew Experience Guide. Don't have one? Get yours here! Digital Download option now available for $8.
More Moments:
When we place God first above everything else in our lives and love Him with all our heart,... Read More
Download the First 5 app to get the full experience