Listen to Jesus
Krista Williams
Day: 23 | Plan: Matthew
Today's Reading: Matthew 17
Matthew 17:5 (NIV) "While he was still speaking, a bright cloud covered them, and a voice from the cloud said, 'This is my Son, whom I love; with him I am well pleased. Listen to Him!'"
Jesus went up on a high mountain to pray, and He took Peter, James and John with Him. While He was praying, the fullness of His glory was made visible. The three disciples saw Jesus' face shine brilliantly, and His clothes turn dazzling white. Then they saw Moses and Elijah talking with Jesus.
Can you imagine the beauty and splendor of that divine moment? What a breathtaking experience to behold.
That's when Peter, who was not one to be still or silent, jumped in with an action plan. He was ready to set up camp on that mountain. Honestly, I don't blame Peter. I would want to stay put and camp out for a while with those three too!
While Peter was still proposing his plan to Jesus, God's booming voice from Heaven interrupted and said: "This my Son, whom I love; with him I am well pleased. Listen to Him!" (Matthew 17:5b).
At that moment, the disciples hit the ground face down. God had interrupted Peter's planning to direct their attention back to Jesus and instructed them to listen to Him!
From God's response, it's obvious we don't always need activity or even good ideas. What we need to do is direct our attention to Jesus and "Listen to Him!"
When was the last time you got still and quiet just to listen to Jesus?
Do you hear Him speaking or are you so caught up in your activities and plans that you are missing His voice? What is needful is for you and me to stop and "Listen to Jesus!"
Prayer: Lord, I confess I am a talker and planner. I don't ever want to be so busy talking and planning that I miss the magnificence of Your divine presence in my life. Interrupt me. Don't let me miss a word You have to say to me. Help me be still and listen. In Jesus' name, amen.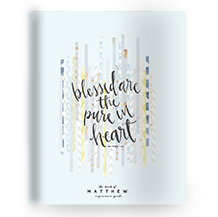 Go deeper with today's First 5 by writing in your Study of Matthew Experience Guide. Don't have one? Get yours here! Digital Download option now available for $8.
More Moments:
Peter, James and John were given a beautiful glimpse of glory on the mountaintop with Jesus. And... Read More
Download the First 5 app to get the full experience