Jesus Predicts His Death and Resurrection
Wendy Blight
Day: 22 | Plan: Matthew
Today's Reading: Matthew 16
Matthew 16:21 (NIV) "From that time on Jesus began to explain to his disciples that he must go to Jerusalem and suffer many things at the hands of the elders, the chief priests and the teachers of the law, and that he must be killed and on the third day be raised to life."
In Matthew 16, we see a turning point in Jesus' ministry.
In Matthew 4:17b, Jesus signaled the beginning of His ministry with these words: "Repent, for the kingdom of heaven has come near." Jesus then spent the next two and a half years establishing both His identity as the Son of God and how He, in His life and ministry, fulfilled the Old Testament Scriptures.
But now, six months before the cross, Jesus stopped emphasizing who He was and instead focused on what He had left to do. He openly proclaimed and clearly set forth the purpose for which His Father had sent Him into the world.
First, Jesus named the place where He would suffer—Jerusalem. The place where the Jews offered their lambs for sacrifice became the place where Jesus offered Himself, the perfect lamb, as the final and ultimate sacrifice.
Second, Jesus named the ones by whose hand He would suffer—"the elders, the chief priests and the teachers of the law." These designations signified the ruling body of the Jews. And though they were men with great knowledge of the Scripture and men who believed that they would recognize and know the Messiah, they missed it! They missed Him!
Third, Jesus foretold He would "suffer many things." Specifically, Jesus said He "must be killed." Father and Son agreed upon this plan before time began. Jesus knew the plan and walked willingly in that plan.
Finally, Jesus proclaimed the good news—He would be raised on the third day. Not even death could contain His glory!
The Lamb of God, the name John the Baptist gave Jesus in John 1:29, left heaven and died on the cross to bear the full punishment for our sin. He satisfied God's judgment for your sin and mine. And all Jesus requires is that we accept this amazing act of love as a gift. He asks nothing in return other than that we confess our sin, believe He died for that sin, and by His mercy and grace extends us forgiveness for that sin.
And the very moment we accept that gift, we become saved children of God! (John 1:12) Our Creator becomes our Father. He engraves our name on the palm of His hand! (Isaiah 49:16)
Prayer: Thank You, Jesus, for loving me so much that You would choose to die on the cross for me. Thank You for taking my sin upon You, taking my punishment so that I wouldn't have to. Today I open my heart to receive Your gift. I confess my sin and commit to turn away from it and trust only in You. By faith I believe and receive You as my Savior and can't wait to walk in my new identity as a child of God, loved and adored by You, valued and worthy of that love. In Jesus' name, amen.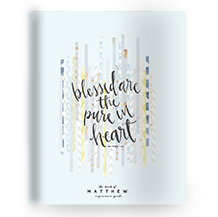 Go deeper with today's First 5 by writing in your Study of Matthew Experience Guide. Don't have one? Get yours here! Digital Download option now available for $8.
More Moments:
Did you know that Jesus once compared Himself to a snake? Surely that can't be right. But... Read More
Download the First 5 app to get the full experience