Clean hands. Pure hearts.
Whitney Capps
Day: 21 | Plan: Matthew
Today's Reading: Matthew 15
Matthew 15:8-9 (NIV) "'These people honor me with their lips, but their hearts are far from me. They worship me in vain; their teachings are merely human rules.'"
Same song. Different verse.
Countless New Testament passages prove how Jesus frustrated the Pharisees and teachers of the law. Rarely did they come to Him to clarify truth or discern wisdom. Their primary goal was to entrap Jesus, limit His influence and maintain the status quo.
For years the Jewish religious leaders had curated a system of rituals that let them appear holy without being holy. It's much easier to act holy than to be holy.
The Pharisees had stepped outside of their authority. God, who alone defines what is holy, gave the Law to Moses. Its purpose wasn't to be a weapon against God's people, but an invitation to enter into relationship with Him. Over time the Law revealed that none of us can attain inward purity when sin is not addressed.
Jesus came to address this sin issue—for the Pharisees, for you and for me. Were the Pharisees' hands unclean? Sure. But no amount of washing before a meal, in between each course and at bedtime would make them clean enough to stand before a holy God.
Because they missed the point of the law, they wrongly concluded that if they did enough good they could earn God's approval. Jesus was clarifying that pleasing God isn't about ritual or performance; pleasing God is about obedience motivated by love and faith. He desires deep devotion, not shallow spirituality.
Now the Pharisees were deeply devoted, but their devotion was rooted in looking like they were without sin or guilt. They were devoted to the appearance of righteousness. I can be guilty of the same. How about you?
Like me, do you sometimes care if people see you doing spiritual things? Do we confess and turn from sins that people can see, all the while ignoring attitudes or actions that are still offensive to God but more easily hidden? Do we say the right things with our lips while living the wrong things with our lives?
The good news of the gospel is that we don't have to base our spiritual decisions on appearance or our good works. Jesus' perfect life and sinless death fully met God's standards of holiness and paid for our sin. We are clean, rightly connected to God, because of Jesus!
But let's not just proclaim the good news; let's live it!
Prayer: Dear God, I confess that I sometimes focus more on what others think about my faith than how to honor you with my faith. I can talk a good Christian game. I don't want to be like the fake Pharisees. I want to genuinely love you, honestly deal with sin and faithfully obey your words. Draw me close to you. In Jesus' name, amen.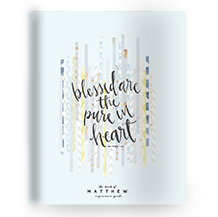 Go deeper with today's First 5 by writing in your Study of Matthew Experience Guide. Don't have one? Get yours here! Digital Download option now available for $8.
More Moments:
In today's chapter, Matthew addresses the theme of unclean hearts. Clearly the Pharisees... Read More
Download the First 5 app to get the full experience