Satisfying Leftovers
Leah DiPascal
Day: 20 | Plan: Matthew
Today's Reading: Matthew 14
Matthew 14:19b (NIV) "Taking the five loaves and the two fish and looking up to heaven, he gave thanks and broke the loaves. Then he gave them to the disciples, and the disciples gave them to the people."
Jesus wanted a quiet place to be alone for a while. He had just received news about His cousin's death and desired time alone with His Father (Matthew 14:3-12).
Instead of receiving solitude, Jesus was greeted by the multitudes. Approximately 5,000 men, plus women and children, stood on the banks waiting as His boat pulled up to the shoreline.
Scripture tells us Jesus immediately had compassion and healed their sick, but as evening approached the disciples wanted to send the people away. Jesus had a much better plan: "They do not need to go away. You give them something to eat" (Matthew 14:16).
After a quick tally, only five loaves of bread and two fish were gathered. As the thousands began to rumble with empty stomachs, the disciples were suddenly faced with a "not enough" crisis.
Don't we all face our own "not enough" crisis at one point or another in life?
Too many bills and "not enough" money in the bank.
Too many doctor's appointments and "not enough" clear-cut answers.
Too many interviews and "not enough" job offers.
Jesus took the disciples' "not enough" and made it more than enough as He held up the loaves and fish to heaven, giving thanks to God the Father and blessing it.
Jesus' multiplication powers produced plenty of leftovers and everyone was satisfied.
Today, you may be facing a "not enough" crisis and feeling the pressing weight of doubt and discouragement. Why not hold what you have up to heaven, trusting God for His multiplication powers and asking Him to bless it according to His will.
In God's hands, our "not enough" can become plenty, with leftovers, so that we can be spiritually satisfied and physically provided for by Him.
Prayer: Heavenly Father, help me to entrust my "not enough" to You. Thank You for promising to meet all my needs according to Your riches and glory. In Jesus' name, amen.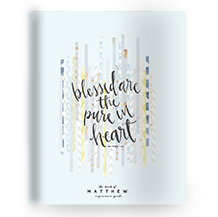 Go deeper with today's First 5 by writing in your Study of Matthew Experience Guide. Don't have one? Get yours here! Digital Download option now available for $8.
More Moments:
When Jesus received the painful news about John's beheading (Matthew 14:3-12) He knew... Read More
Download the First 5 app to get the full experience