The Most Powerful Name
Lysa TerKeurst
Day: 2 | Plan: Matthew
Today's Reading: Matthew 1:18-25
Matthew 1:20 (NIV) "But after he had considered this, an angel of the Lord appeared to him in a dream and said, 'Joseph son of David, do not be afraid to take Mary home as your wife, because what is conceived in her is from the Holy Spirit.'"
I picture Joseph in the moment he found out his future wife was pregnant. He knew the child wasn't his. His mind must have fired off all kinds of assumptions and dreadful possible scenarios that could have caused this situation.
And Joseph's response? He made plans to divorce Mary in secret.
The very next thing written in verse 20 states that after Joseph considered the divorce an angel visited him in a dream. Joseph went to sleep with the weight of his decision weighing on him, and God sent an angel to direct him and protect God's plan.
God had a plan for Joseph. His assignment was to bring forth the child and name him "Jesus" (Matthew 1:21).
And the enemy's tactic to mess that plan up could have been many things. Shame. Anger. Confusion.
But the angel of the Lord saw what was really keeping Joseph from staying in alignment with his assignment from God: fear.
Make no mistake, the enemy wanted Joseph to be afraid.
The enemy wants you to be afraid today too.
Not the healthy kind of fear that keeps us safe. No, the horrible kind of fear that whispers worst-case scenarios, absent of hope and haunted by hurt.
With death on his breath fear says, "Entertain my entanglements. Linger in my lies. And drink deeply from my darkness."
While we're distracted with fear, the enemy pickpockets our purpose. Cripples our courage. Dismantles our dreams. And blinds us to the beauty of the Lord's great plans.
On the surface it may not seem like your assignment is like Joseph's at all. But it's actually incredibly similar. You are to bring forth and proclaim the name of Jesus.
Is there a person with whom you've been afraid to share your testimony? Is there a relationship causing you confusion and anxiety? Is there a problem you're facing where there seems to be no solution?
Proclaiming the name of Jesus brings power, protection and a perspective that crushes fear. It is the name above every other.
Joseph went to bed afraid. In his dream he hears the name Jesus for the first time. And wakes up empowered to be obedient to God's plan.
There is power in the name of Jesus.
Calling on the name of Jesus shouldn't be our last resort. It should be our first response. He is Immanuel, God with us.
Prayer: Lord, forgive me for the times when I have chosen to call on the names of my family and friends before I have called on the name of your precious son, Jesus. Help me remember that there is power in His name. In Jesus' name, amen.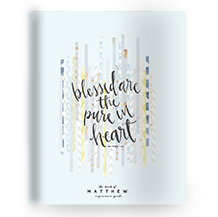 Go deeper with today's First 5 by writing in your Study of Matthew Experience Guide. Don't have one? Get yours here! Digital Download option now available for $8.
More Moments:
Matthew 1 introduces a key theme that we will see throughout the gospel. Jesus came to... Read More
Download the First 5 app to get the full experience