Farming 101
Wendy Pope
Day: 19 | Plan: Matthew
Today's Reading: Matthew 13
Matthew 13:3 (NIV) "Then he told them many things in parables, saying: 'A farmer went out to sow his seed.'"
In today's verse, Jesus is talking about more than agriculture. The sower is anyone who teaches God's Word. The seed represents God's Word and the soil represents the condition of our human hearts. In this parable, Jesus teaches what happens to the seed of His Word when planted.
While my knowledge of farming can fit in a thimble, I do know this: only fertile soil will produce healthy vegetation.
When our soil is rocky with sin, the seed won't be able to take root. Without a root system what is planted dies. If our soil is thorny and full of weeds from the worries and deceitfulness of this life what starts as growth quickly fades away. A heart of good soil, one that is receptive to understanding and submitting to God's Word, produces good fruit God desires in order for His kingdom to grow.
We are challenged through Jesus' teaching to have hearts of good soil. Just like a farmer works the soil of the land year round, preparing for planting and harvest, we need to cultivate the soil of our heart to receive the truth of God's Word.
We cultivate the soil of heart by:
Plowing up the hard places of unforgiveness
Hoeing up the roots of bitterness
Pulling up weeds of sin
Fertilizing daily by reading and applying Scripture.
Prayer: Lord, even though I know Your Word is good for me submitting isn't easy. I want my heart to be a fertile place for the seed of Your Word to grow strong and produce good fruit. Quicken my spirit to submit to Your work in my life. In Jesus' name, amen.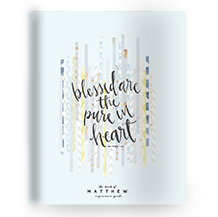 Go deeper with today's First 5 by writing in your Study of Matthew Experience Guide. Don't have one? Get yours here! Digital Download option now available for $8.
More Moments:
Home is a place where we should all expect to be welcomed, loved and accepted, but that... Read More
Download the First 5 app to get the full experience