Come to Me
Wendy Blight
Day: 17 | Plan: Matthew
Today's Reading: Matthew 11
Matthew 11:28 (NIV) "Come to me, all you who are weary and burdened, and I will give you rest."
The Pharisees demanded. Do this. Do that. Obey the law.
But Jesus did not demand. He invited. "Come to Me."
Jesus invited the weary and burdened who had been living under the Pharisees' harsh and inflexible enforcement of the law to simply "come." They understood the invitation's significance because of Jesus' beautiful analogy in the next verse: "Take my yoke upon you, and learn from me, for I am gentle and humble in heart, and you will find rest for your souls" (Matthew 11:29).
In Jesus' day, a yoke referred to a heavy wooden harness that fit over the shoulders of two oxen. It joined the animals together so they could work as a team. This made their fieldwork easier.
Figuratively, the yoke represented the restrictions placed upon God's people by the Law. Jesus' invitation offered them freedom from perfect performance of the Law and from the excessive demands of their religious leaders. He offered rest. Oh, what a refreshing and liberating invitation!
On the cross, with His outstretched arms, Jesus willingly extended that same invitation to us. And there, in those arms we find forgiveness and freedom from the heavy weight of guilt, sin, and perfect obedience.
Jesus promises His yoke is easy. His burden is light. In Him, we find peace and rest. He heals our wounds. He restores our souls. His grace is enough.
Won't you come to Him? He is waiting.
Prayer: Heavenly Father, I'm so weary. My heart aches. My schedule overwhelms me. I'm coming to You today for the rest that only You can give. Draw near to me, Jesus, so that I can draw my strength and peace from You. Be my glory and the lifter of my head and heart. In Jesus' name, amen.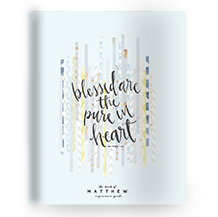 Go deeper with today's First 5 by writing in your Study of Matthew Experience Guide. Don't have one? Get yours here! Digital Download option now available for $8.
More Moments:
In the Old Testament, David called God our "shepherd" who "refreshes" our... Read More
Download the First 5 app to get the full experience