Remain Faithful
Leah DiPascal
Day: 16 | Plan: Matthew
Today's Reading: Matthew 10:26-42
Matthew 10:26-27 (NIV) "So do not be afraid of them, for there is nothing concealed that will not be disclosed, or hidden that will not be made known. What I tell you in the dark, speak in the daylight; what is whispered in your ear, proclaim from the roofs."
Can you imagine being one of the 12 disciples and spending every day with Jesus? You would watch in awe as Jesus gave sight to the blind (Matthew 9:27-31), healed people from leprosy and disease, (Matthew 8:1-4), cast out demons, (Matthew 8:28-34) and raised children from the dead (Matthew 9:18-19, 23-26).
Just as the disciples had been watching Jesus perform all these miracles, in Matthew 10, we see Him gathering the 12 together and giving them authority to do the same. Jesus commissioned them to go to the Jewish people and proclaim that the kingdom of heaven was near.
This was a big assignment and Jesus was honest in telling the disciples it wouldn't be easy. Some of the Jewish people would receive their message with open hearts, but others would reject it. Even worse, Jesus told the disciples they would be handed over to the local authorities, beaten and arrested (Matthew 10: 17-19). I wonder if the disciples started doubting the assignment Jesus was giving them.
With all these harsh realities the disciples would face, Jesus told them not to worry or be afraid:
"Do not worry about what to say or how to say it. At that time you will be given what to say, for it will not be you speaking, but the Spirit of your Father speaking through you" (Matthew 10:19b-20).
"So do not be afraid of them, for there is nothing concealed that will not be disclosed, or hidden that will not be made known" (Matthew 10:26).
"Do not be afraid of those who kill the body but cannot kill the soul" (Matthew 10:28a).
Today, Jesus speaks those same words over us: Do not worry. Do not be afraid.
The truth is, as we follow Jesus, persecution will come. Sometimes publicly from strangers and other times privately from those we love. As we share the Gospel message, we may feel beaten up by false accusations and emotionally arrested by harsh words from those who don't understand. As believers, we need to have soft hearts and thick skin to take the punches this world throws at us.
The world tells us to sit down and be quiet, but Jesus reminds us to share our stories and let others know of His eternal grace. As we share in others' burdens, He will take care of our needs.
Friend, our work won't be complete until Jesus returns. Conflict will continue and each day we will pick up our own cross and follow Him (Matthew 10:36-39). But a day is coming when the heavens will open wide and Jesus will descend on clouds of great glory. And it will all be worth it.
Prayer: Heavenly Father, when life gets hard and I become weary, hold me close and remind me not to be afraid. Give me the confidence to share the Gospel message, even if it means getting rejected and accused for Your sake. I put all my trust and hope in You. In Jesus' name, amen.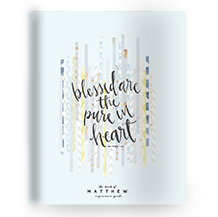 Go deeper with today's First 5 by writing in your Study of Matthew Experience Guide. Don't have one? Get yours here! Digital Download option now available for $8.
More Moments:
I love Matthew 10:27 where Jesus tells the disciples, "What I tell you in the dark,... Read More
Download the First 5 app to get the full experience