Priorities, Process and Provision
Whitney Capps
Day: 15 | Plan: Matthew
Today's Reading: Matthew 10:1-25
Matthew 10:1 (NIV) "Jesus called his twelve disciples to him and gave them authority to drive out impure spirits and to heal every disease and sickness."
I've been guilty of diving into a Bible study asking, "What's in it for me?" But to make a good interpretation of a passage, it's often helpful to ask first, "what was the purpose of these words to the original audience?" From there we can ask what God, or in this case Jesus, was trying to say to His people then and to us today.
This passage of Matthew 10 is a great place to practice that strategy. Let's read it thinking about what this collection of Jesus' instructions meant to the twelve men to whom He was speaking.
We must remember that this commissioning or sending out was to a select group of men chosen by Jesus to bear the title of "apostle." This is a unique term for those men sent to proclaim with authority and miraculous power the good news about who Jesus is and what He did. This distinguishes disciples (of whom there were many more than just this twelve) and the few divinely empowered apostles. Simply put all apostles were disciples but not all disciples were apostles.
This passage offers specific instructions to these apostles because of the time and season of ministry they were entering.
Jesus knew that the Gospel would be proclaimed to the Gentiles or non-Jewish people, but His priority was Israel. He wanted the disciples to go first to the Jews because they were God's chosen people, and because they would have the privilege of professing faith in Jesus and proclaiming that news to the world. Jesus' followers follow His priorities.
Jesus also gave them message and ministry instructions. They were to proclaim the truth that Jesus, their Messiah, had come. The unique power He gave them to heal the sick or cast out demons would authenticate their message. While they would serve with miraculous demonstrations, their basic purpose was to meet needs and speak truth.
Lastly, Jesus would encourage them to trust Him for all the provisions they would need as they served God and others. These men, former tax collectors, religious rebels and faithful fishermen, were to lay down their old can-do attitudes and self-sufficiencies to trust the One who was sending them out.
This was His message to them—go, but follow My priorities, honor My process and trust My provision. So back to our process of evaluating this passage. Their call and authority were unique, but we can learn a lot from their examples of service and surrender.
What He said to them in practice, He says to us in principle. Do we pursue His priorities and trust His process of meeting needs and speaking truth? How well do you and I lean into His provision, abandoning our self-sufficiency and need for control?
Prayer: God, I want to learn to follow the apostles' example. Enable me to trust You to set the priorities for my day. Will You equip me to speak truth into someone's life today? Jesus, if You want me to meet a need, please help me to stop and see what You see. And Lord, if I'm still living in my own self-sufficiency, would You challenge me to lay down my control and fully trust You? In Jesus' name, amen.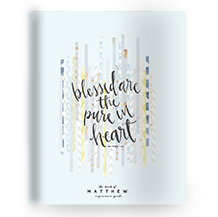 Go deeper with today's First 5 by writing in your Study of Matthew Experience Guide. Don't have one? Get yours here! Digital Download option now available for $8.
More Moments:
The disciples came from various backgrounds, but they seem to all have traits that Jesus desires... Read More
Download the First 5 app to get the full experience