Their Success Does Not Threaten Mine
Lysa TerKeurst
Day: 14 | Plan: Matthew
Today's Reading: Matthew 9
Matthew 9:37 (NIV) "Then he said to his disciples, 'The harvest is plentiful but the workers are few.'"
We have a choice today.
We can look out and see the unlimited, abundant opportunities God has placed before us. To create. To write. To serve. To sing. To be and become.
Or we can stare at the opportunity of another person and get entangled in the enemy's lie that everything is scarce. Scarce opportunities. Scarce supply. Scarce possibilities.
Then we start seeing another person's success as a threat to our own opportunities.
A few years ago, I went through a really tough season where it felt like everyone in my life was succeeding. Except for me.
In my better moments, I did the right thing and authentically celebrated with them. But then there were other moments.
Moments where I felt my friends' lives were rushing past me in a flurry of new opportunities and affirmations of their callings from God. It seemed the world was literally passing me by. And in those moments I said on the outside, "good for them."
But on the inside I just kept thinking, "Ouch … that means less and less opportunity for me."
Of course, I knew these weren't pretty thoughts. So I kept them to myself. But inside I wrestled and processed.
And I decided to get still (Psalm 46:10). I had to stop believing that I'd been left out and left behind. I had to intentionally starve my scarcity thinking.
Those times of being still are good and necessary when your thinking needs to be swept all into one pile. It's much easier to identify treasures to be kept from the trash that needs to be tossed.
Then I could see new and life-giving realities. Their success does not threaten yours or mine. When they do well, we all do well. All tides rise when we see a believer making this world a better place with their gifts.
When I finally started believing this, my stillness turned into readiness.
This is what Jesus reminds us: "The harvest is plentiful but the workers are few. Ask the Lord of the harvest, therefore, to send out workers into his harvest field" (Matthew 9:37-38).
Oh, sweet friend, there is an abundant need in this world for your contributions to the Kingdom … your thoughts and words and artistic expressions … your exact brand of beautiful. Know it. Believe it. Live it.
Prayer: Lord, I believe Your plans for my life are good and that You have not forgotten about me. I'm choosing to be still so You can redirect my thinking to align with Your life-giving truth. In Jesus' name, amen.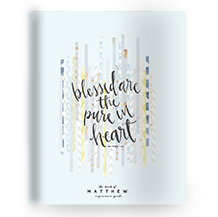 Go deeper with today's First 5 by writing in your Study of Matthew Experience Guide. Don't have one? Get yours here! Digital Download option now available for $8.
More Moments:
Matthew was a Jewish man who worked for the Roman government. This in and of itself would have... Read More
Download the First 5 app to get the full experience