Amazing Faith
Wendy Blight
Day: 13 | Plan: Matthew
Today's Reading: Matthew 8
Matthew 8:10 (NIV) "When Jesus heard this, he was amazed and said to those following him, 'Truly I tell you, I have not found anyone in Israel with such great faith.'"
Jesus had just finished teaching His famous Sermon on the Mount when He encountered an unnamed Roman centurion (Roman military officer in command of 100 officers).
At some point, the soldier came to Jesus and asked Him to heal his servant who was lying paralyzed back at the centurion's house. Traditionally, Jews hated Roman soldiers. However, in Luke's telling of the story, we learn this soldier treated the Jews kindly and fairly and helped build their local synagogue (Luke 7:1-10).
Jesus, responding with compassion, asked "Shall I come and heal him" (Matthew 8:7)?
The centurion replied with great humility. "Lord, I do not deserve to have you come under my roof. But just say the word, and my servant will be healed" (Matthew 8:8). His next words demonstrated his deep understanding of Jesus' authority and his trust that Jesus need not be present to heal: "For I myself am a man under authority, with soldiers under me. I tell this one, 'Go,' and he goes; and that one, 'Come,' and he comes. I say to my servant, 'Do this,' and he does it" (Matthew 8:8-9).
I'm thinking Jesus heard between the lines: I am who I am, and people under my authority do what I say. And, because You are who You are, if You speak a word, it will be done. The Roman soldier knew what Jesus spoke, He accomplished and that Jesus was a man of His word.
And in that very moment, "his servant was healed" (Matthew 8:13) without Jesus ever stepping foot in the centurion's house.
Matthew tells us the centurion's words astonished Jesus. In fact, Jesus Himself said He had not seen anyone in Israel with such great faith (Matthew 8:10b).
Because of the centurion's faith, he witnessed the incomparable healing power of Jesus Christ. I wonder what he must have felt in that moment.
Oh, how I want to be a woman whose faith amazes God! I want to experience His incomparable power. What about you?
Prayer: Oh, Heavenly Father, I want to have a faith that amazes You. Help me have a heart like that of the centurion … a compassionate heart, a humble heart and a heart that understands Your power and authority. I want to be a woman who believes You are who You say You are and You do what You say You will do. In You all things are possible! In Jesus' name, amen.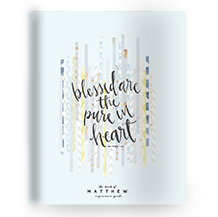 Go deeper with today's First 5 by writing in your Study of Matthew Experience Guide. Don't have one? Get yours here! Digital Download option now available for $8.
More Moments:
One thing we must not miss in this story is the value the centurion placed on his servant. In... Read More
Download the First 5 app to get the full experience