Vain Words and Works Won't Work
Krista Williams
Day: 12 | Plan: Matthew
Today's Reading: Matthew 7
Matthew 7:21 (NIV) "Not everyone who says to me, 'Lord, Lord,' will enter the kingdom of heaven, but only the one who does the will of my Father who is in heaven."
Jesus wraps up the Sermon on the Mount by insisting that the only way to heaven is through the narrow gate. He is the gate and He is the only way to God (John 10:9; John 14:6).
All other ways, no matter how popular or appealing or good they seem, will only lead to destruction.
Jesus says many will choose the wide way of the world. Only a few will choose to follow the way of Jesus that leads to life (Matthew 7:13-14.) Jesus' way is narrow and direct. It's vigorous and requires attention.
Today's key verse is a sober reminder that not everyone is going to heaven. And in verses 21-23, Jesus clarifies two important points where many get off track.
First, He says, "Not everyone who says to me, 'Lord, Lord,' will enter the kingdom of heaven, but only the one who does the will of my Father who is in heaven" (Matthew 7:21).
It is not about the words we say, it is about doing God's will.
It's easy to have a religious vocabulary and know all the right words to say, but we can't talk our way into heaven. True faith is more than words. It requires a deliberate decision to trust God and live our life according to His Word (James 2:17).
Next, Jesus clarifies the fact that true faith is also more than works.
In verses Matthew 7:22-23 He says, "Many will say to me on that day, 'Lord, Lord, did we not prophesy in your name, and in your name drive out demons and perform miracles?' Then I will tell them plainly, 'I never knew you. Away from me, you evildoers!'"
Jesus didn't dispute or deny the fact that they did these things. He simply says, "I never knew you."
Good works won't get you into heaven. It's not about having a long list of impressive spiritual accomplishments like church attendance, serving the poor, being in ministry or even performing miracles in Jesus' name. It's not about using the name of Jesus to make yourself look good. It's about relationship.
God saves us, not because of the righteous things we've done, but because of His mercy (Titus 3:5). It is by grace through faith that we are saved (Ephesians 2:8).
Jesus sees right through our religious words and our religious works. He knows those who truly belong to Him. He knows those who do the Father's will.
He tells us, "The work of God is this: to believe in the one he has sent" (John 6:29).
Don't be among the "many." Don't just assume you're on the path that leads to eternal life unless you have a personal relationship with Jesus and are pursuing a life lived in obedience to Christ.
Prayer: Heavenly Father, I confess sometimes my words sound good but my heart is far from you. Cleanse my heart. Draw me close to You so my words and the things I do will truly reflect a heart that deeply loves You. In Jesus' name, amen.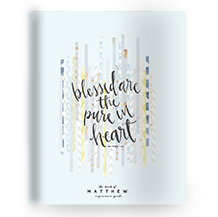 Go deeper with today's First 5 by writing in your Study of Matthew Experience Guide. Don't have one? Get yours here! Digital Download option now available for $8.
More Moments:
Every choice we make points us in a certain direction: either God's way or the... Read More
Download the First 5 app to get the full experience