The Fruit We Bear
Lysa TerKeurst
Day: 11 | Plan: Matthew
Today's Reading: Matthew 7
Matthew 7:16a (NIV) "By their fruit you will recognize them …"
A Bible study leader and I were talking recently about a situation that greatly distressed her. Knowing she was going to be on vacation one week, she'd asked one of her friends to come in and lead the group. This friend was a longtime student of the Bible and a terrific teacher. But the day after her friend taught, this leader received an email from a member of the group accusing her friend of being a false teacher.
The leader went through every point, lining it up with Scripture, and couldn't see any evidence of this serious accusation at all. She came to me and asked for my advice.
I said, "Tell me about the fruit in the woman's life who is making the accusations. And then tell me about the fruit in the life of your friend who taught the lesson in question."
The answer to this question made things much clearer for the leader.
Fruit is the evidence of God's Spirit in us. It's not that we are perfect by any means. But on a consistent basis are we demonstrating what Galatians 5 lists as fruit of the Spirit: love, joy, peace, patience, kindness, goodness, faithfulness, gentleness and self-control?
Matthew 7:15-16a warns us, "Watch out for false prophets. They come to you in sheep's clothing, but inwardly they are ferocious wolves. By their fruit you will recognize them."
This isn't just a way to discern a false prophet or teacher, it's also a good reminder for us personally.
Today, this isn't a call to look for negative things in others. Not at all. Earlier in Matthew 7 we are taught to pay attention to the plank in our own eye before picking at the speck of sawdust in another person's eye.
As we follow God we must remember it's important to be learning about His Word. But equally important we must also be living out His Word.
Information without application will not equal transformation.
The way we treat others, speak to others, demonstrate patience with others, notice others and honor others will either validate or violate what we say we believe. The very best sermons aren't those preached from a stage but rather those lived out in everyday life.
What a needed reminder for us all today.
Prayer: Heavenly Father, I don't want to just know You, I want the fruit of my life to reflect You in all I say and do. Help me to show Your love, joy, peace, patience, kindness, goodness, faithfulness, gentleness and self-control to all I encounter today. In Jesus' name, amen.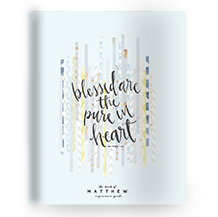 Go deeper with today's First 5 by writing in your Study of Matthew Experience Guide. Don't have one? Get yours here! Digital Download option now available for $8.
More Moments:
Matthew 7 opens with the words "Do not judge, or you too will be judged"... Read More
Download the First 5 app to get the full experience