A Protection Only Prayer Can Give
Lysa TerKeurst
Day: 10 | Plan: Matthew
Today's Reading: Matthew 6
Matthew 6:8b, (NIV) "… your Father knows what you need before you ask him."
God doesn't need our suggestions. But boy am I eager to make suggestions to Him! I've been guilty of making my prayer life all about figuring out what's the best in every situation and then asking God to bless my plans. "Lord, bless this. Don't mess with it. Just bless all that I've arranged. And give me all I've suggested."
But can I admit to you what I had to admit to God lately? My plans are never, ever the best plans.
Like today's verse states, God already knows what we need before we ask Him. Not what we think we need. He knows what we really need according to His perfect plans.
So, why pray then?
We pray, because we don't truly know what we need. We pray because He sees everything while we see only a sliver of the bigger picture. We pray because we have limited perspectives, limited thoughts, limited views. We pray because we need so much more than quick fixes and help for our troubles. We pray because we need Him.
And if we will hush the hurry of our lives, and humble our hearts before the Lord, He will infuse within us life-giving revelations and a powerful sense of peace we can't get any other way.
Here are some things only prayer can give:
Only He can empty the world's worries from our weary perspectives.
No thing on earth has any authority over God. His will is being accomplished even when it doesn't look that way from our point of view. And best of all He is operating from victory not working for victory.
"Our Father in heaven, hallowed be your name, your kingdom come, your will be done, on earth as it is in heaven" (Matthew 6:9-10).
With Him, there is no need for us to worry. Because of Him, we have every reason to worship!
He will fill us with His perfect provision for this day.
God knows what we need and will give us today's portion of meeting that need. It may not look like what we want, but it will be what He knows we need and in the exact portion we can handle.
"Give us today our daily bread" (Matthew 6:11).
And He will purify us so what we spill over onto others through our words and actions is life giving.
A heart tainted by sin, tempted to be too prideful to forgive, or tortured by temptation will not thrive or be the blessing to others we're called to be. So, Jesus teaches us how to stay free of the deceiver's grip.
"And forgive us our debts, as we also have forgiven our debtors. And lead us not into temptation, but deliver us from the evil one" (Matthew 6:12-13).
This is how Jesus teaches us to pray in Matthew 6.
As I read this I realize He doesn't need my lists of desires, he wants my willing humility.
In humility we lift up His name, receive His provision, listen for His direction, accept His correction, and walk in a protection only prayer can give.
Prayer: Lord, I confess that all too often I am guilty of making my own plans and asking You to bless them. I have forgotten that Your plans are perfect. Remind me it is You alone I need. In Jesus' name, amen.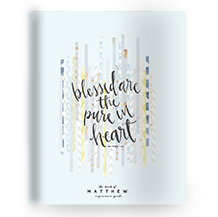 Go deeper with today's First 5 by writing in your Study of Matthew Experience Guide. Don't have one? Get yours here! Digital Download option now available for $8.
More Moments:
Worry. It can paralyze us and rob us of joy and life. (Matthew 6:27) But have you ever stopped... Read More
Download the First 5 app to get the full experience