Where Did Jesus Come From?
Wendy Blight
Day: 1 | Plan: Matthew
Today's Reading: Matthew 1:1-17
Matthew 1:1 (NIV) "This is the genealogy of Jesus the Messiah the son of David, the son of Abraham."
Much to my surprise and delight, when I dug into the genealogy that opens the gospel of Matthew, I found it incredibly foundational to proving Jesus is who He says He is.
This is why Matthew opened his gospel with this particular genealogy. He wrote primarily to the Jews and desperately wanted them to believe Jesus was the long-awaited Messiah. He crafted this pedigree to prove Jesus was both the "son of David" and the "son of Abraham" (Matthew 1:1).
Matthew anchored his genealogy in the Old Testament to prove Jesus was a direct descendant of Abraham. Why was this important? Because God's covenant with Abraham (Genesis 12) promised three things: possession of land, a great people to live in that land and immeasurable blessings for Abraham's descendants. And one of those descendants would be the One through whom all the people of the world would be blessed. That descendant was Jesus.
Said another way, by proving that Jesus had flesh and blood ancestors whose bloodline began with Abraham, he provides credible evidence that although Jesus came from heaven, He became one of us, making Him both God and man.
Finally, Matthew's genealogy legitimized Christ's claim that He was a King (Matthew 27:11). God promised Abraham that kings would come from him (Genesis 17:1-6) and promised David that his throne would be established forever (2 Samuel 7:12-16). Jesus was the fulfillment of those promises … the Heir to David's crown.
Matthew's "list of names" proves not only that Jesus was part of history but also that all of Jewish history prepared the way for His birth! Jesus, the King of kings, ushered forth from David, the Israelites' greatest king.
Prayer: Heavenly Father, thank You for teaching me who Jesus is and from where He came. I am in awe at how Your hand works … that You had in mind from the beginning for Jesus to be the Savior of the world and orchestrated world events to bring about Your plan. You are truly an awesome God and I praise You this morning. In Jesus' name, amen.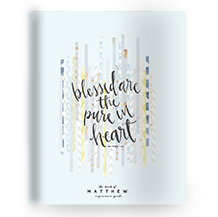 Go deeper with today's First 5 by writing in your Study of Matthew Experience Guide. Don't have one? Get yours here! Digital Download option now available for $8.
More Moments:
In the first 17 verses of Matthew, we meet over 40 people whose lifetimes span 2,000 years. Each... Read More
Download the First 5 app to get the full experience