Be Holy
Krista Williams
Day: 30 | Plan: Leviticus-Hebrews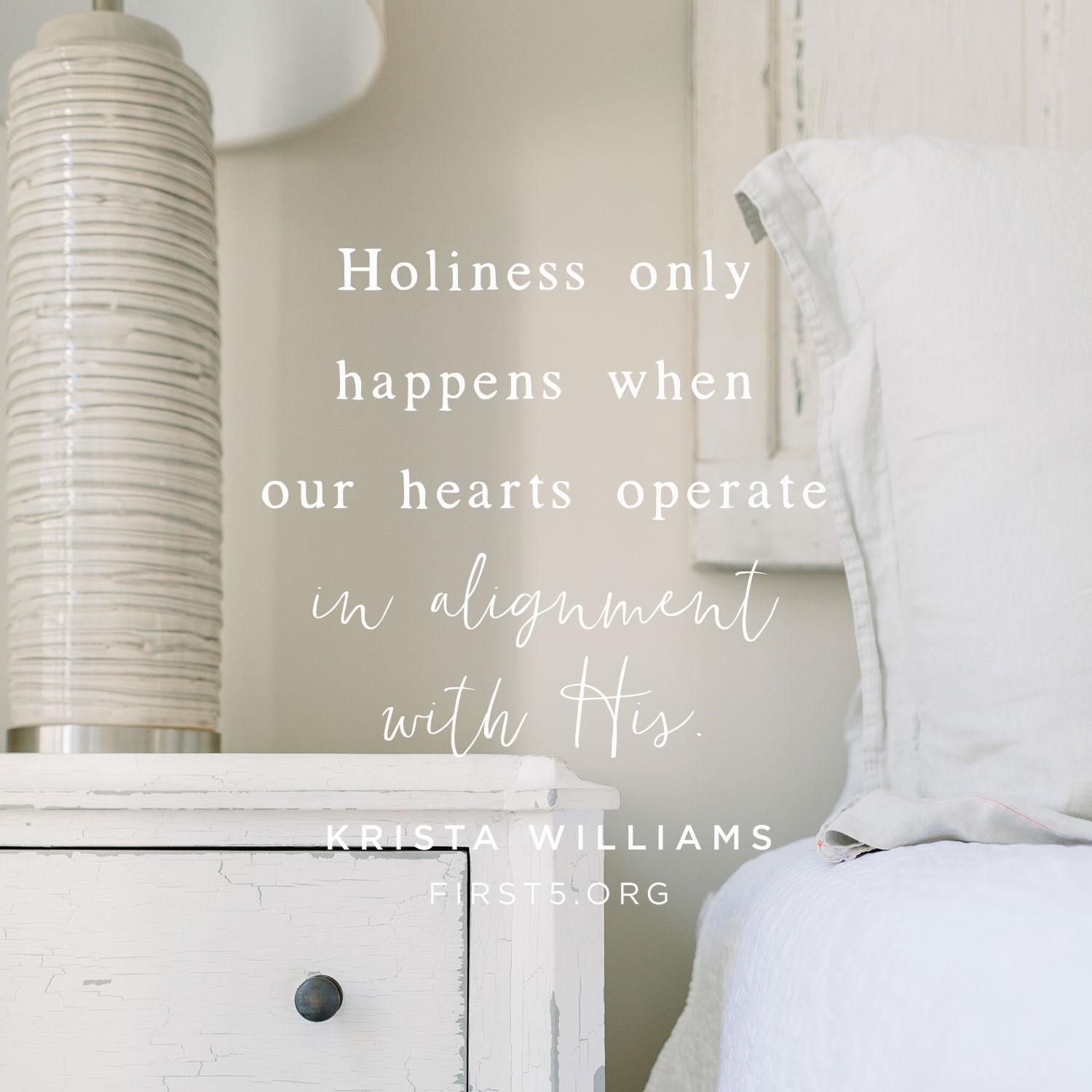 Today's Reading: Leviticus 20
Leviticus 20:26 (NIV) "You are to be holy to me because I, the LORD, am holy, and I have set you apart from the nations to be my own."
Holiness is what God requires. Holiness is what we need. God is holy, and He calls His people to be holy. He calls us to be holy unto Him and to live a holy life for Him.
Being "holy" means to be set apart. Unique. Devoted to God. Distinct from the world around us.
However, holiness is an unfamiliar, unpopular concept in our day. We live in an unholy world where we are so busy pursuing happiness, we never stop to think about holiness.
Our lack of holiness is destructive to the church, it's destroying our culture and it's damaging our witness to the world.
Holiness involves living according to God's standard and not our own. It means to live in the light of what God says and not according to the ways of the world.
God cares about you. He cares about me. He cares about the way we live our lives.
And because God cares, He has given us very clear, very specific instructions in His Word about how we are to live.
But let's be honest. Reading through Leviticus 20 is both challenging and convicting. The entire chapter reveals a list of sins so serious to God that anyone involved in them was to be put to death. It's convicting and challenging because these are things we publicize and glamorize. They are things we debate and tolerate.
The list includes idolatry, dabbling in occult activities, dishonoring one's parents and every form of sexual immorality and perversion.
If Israel allowed any of these sins in their midst or ignored them and did not uphold God's law, then the land would vomit them out. (Leviticus 20:22) That means the nation would forfeit their inheritance of the land.
In the New Testament, Scripture says, " … you can be sure: No immoral, impure or greedy person … has any inheritance in the kingdom of Christ and of God. Let no one deceive you with empty words, for because of such things God's wrath comes on those who are disobedient." (Ephesians 5:5-6)
The bottom line hasn't changed. God's standard remains the same. God calls His people to be holy, to live a pure life that pleases Him and reflects His character more and more. (1 Peter 1:14-16; 1 Thessalonians 4:1-5)
And here's the truth: Holiness happens only when our hearts operate in alignment with His.
Prayer: Father, You are holy. You are blameless and pure. Your ways are higher than our ways. Lord, forgive us for so often following the ways of the world instead of seeking to live according to Your Word. Purify us. Sanctify us with Your Word. May our hearts operate in alignment with Yours today. In Jesus' name, amen.
More Moments:
"Consecrate yourselves and be holy, because I am the LORD your God"... Read More
Download the First 5 app to get the full experience