Living Water
Leah DiPascal
Day: 5 | Plan: John
Today's Reading: John 4
John 4:13-14 (NIV) "Jesus answered, 'Everyone who drinks this water will be thirsty again, but whoever drinks the water I give them will never thirst. Indeed, the water I give them will become in them a spring of water welling up to eternal life.'"
Imagine drinking water and never becoming thirsty again.
In these verses, we get a peek into a conversation Jesus had with a woman from the village of Sychar in Samaria. Jesus was offering her water, but not from a natural spring or even the famous well she was drawing rainwater from. Instead Jesus offered her a gift of living water, which is mentioned in verse 10.
Jesus knew this woman had made some poor life choices and was living with a man that was not her husband. She had developed a habit of looking to others in hopes they would meet all her needs. It was a thirst for more she couldn't seem to quench. Maybe this living water would make her life easier. She had no idea this encounter with Jesus was about to change her life forever.
There may be times when we find ourselves thirsting for more-more recognition, more wealth or more materialistic things. We put our hope in these things, believing they will quench our deepest desires. But the shallow water this world offers through its temporary fame and short-lived fortunes will leave us momentarily satisfied, yet eventually thirsting for more.
Like the woman at the well, Jesus invites us to receive His living water, which is the gift of the Holy Spirit, along with forgiveness, redemption and a new life. He is the Fountain of Water, bubbling up within us, that provides eternal refreshment and strength to our souls.
By the infilling of the Holy Spirit we can receive spiritual nourishment and experience the overflow of a blessed life filled love, joy and peace. Not just for today, but for eternity.
Prayer: Jesus, thank You for the gift of the Holy Spirit, which is the Living Water that quenches my soul and satisfies my deepest desires. Fill me to overflowing with Your Spirit, so I never have to thirst again for the temporary things this world tries to offer me. Let my heart spring up with Your love and joy from now and for eternity. In Jesus' name, amen.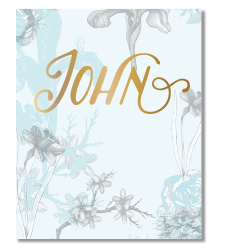 Go deeper with today's First 5 by writing in your Study of John Experience Guide. Don't have one? Get yours here!
More Moments:
Imagine going a whole day without water. How would your body respond from being deprived of this... Read More
Download the First 5 app to get the full experience