The Work of the Holy Spirit
Leah DiPascal
Day: 20 | Plan: John
Today's Reading: John 16
John 16:13 (NIV) "When he, the Spirit of truth, comes, he will guide you into all the truth. He will not speak on his own; he will speak only what he hears, and he will tell you what is yet to come."
In this verse, Jesus is speaking to His disciples about the Holy Spirit. Jesus had already told them He would be leaving soon to return to the Father in heaven. Can you imagine how upset they must have been, knowing they would no longer have His comforting presence? Scripture tells us they were filled with grief (John 16:6).
Although Jesus was leaving, He was not leaving the disciples alone. The promise of the Holy Spirit came with a lot of benefits. But I'm sure they wondered, Who is this Holy Spirit and when will He arrive?
The Holy Spirit would now be the One to lead the disciples. He would reveal to them the truth about the future and explain the will of the Father. Just like Jesus, the Holy Spirit would only speak words that came directly from God. He would comfort, empower, guide and remind the disciples of what Jesus had taught during their time together.
As Christians, we have the same promise and benefits of the Holy Spirit. In fact, the moment you received Jesus as your Savior, you were filled with the Holy Spirit, just like the disciples were (Acts 2). Not only will the Holy Spirit guide you, He will help you understand the Bible when you read it. He will also help you pray or even pray and intercede for you when you're too weary and don't know how to pray. The Holy Spirit has special fruit (Galatians 5) and gifts (1 Corinthians 12) that will help you fulfill your calling in life. Yes, the Holy Spirit is very real and He provides everything you need to live a healthy, spiritual life.
Prayer: Heavenly Father, thank You for giving me the gift of the Holy Spirit. Help me to better understand the benefits and blessings that the Holy Spirit brings to my life. In Jesus' name, amen.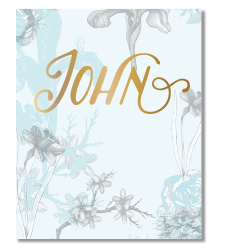 Go deeper with today's First 5 by writing in your Study of John Experience Guide. Don't have one? Get yours here!
More Moments:
Jesus fulfilled the promises He made to the disciples and just over 40 days later they watched... Read More
Download the First 5 app to get the full experience