Jesus Is the Way, the Truth and the Life
Leah DiPascal
Day: 17 | Plan: John
Today's Reading: John 14
John 14:5-6 (NIV) "Thomas said to him, 'Lord, we don't know where you are going, so how can we know the way?' Jesus answered, 'I am the way and the truth and the life. No one comes to the Father except through me.'"
Have you ever felt like Thomas—knowing just enough information to keep you inching forward, but not quite sure the direction you're headed is right?
With Jesus, we don't have to wonder or worry. As He clearly told Thomas, He also tells us, "I am the way and the truth and the life. No one comes to the Father except through me." (John 14:6)
Although there are many opinions and philosophies suggesting salvation can be obtained through different ways, there is only one way and that is through Jesus Christ.
We won't reach God through a set of directions, but through a personal relationship with His Son. When Jesus stretched out His arms on the cross it was wide enough to save the entire world. He is the only One who came from the Father, therefore He is the only way to the Father.
As Jesus leads us to the Father, He teaches us truth in His Word and fulfills His promises in our lives. The truth of Jesus sets us free from the shackles of sin, guilt and fear, so we can walk in freedom and live in victory. If we want to know the truth of the Father, we have to know Jesus first.
It is through Jesus that we receive eternal life, which is a gift from God. We can mistakenly confuse the reality of eternal life, believing we only experience it once we get to heaven. But Jesus said in John 17:3, "Now this is eternal life: that they may know you, the only true God, and Jesus Christ, whom you have sent." Eternal life begins when we accept Jesus as our Lord and begin a relationship with Him.
If you've never said yes to Jesus, today is your opportunity! You can receive the gift of eternal life and know for sure the way, the truth and the life.
Prayer: God, I receive You today as my Lord and Savior. Forgive me of my sins, cleanse me and give me the gift of eternal life. I want to have a personal relationship with You. In Jesus' name, amen.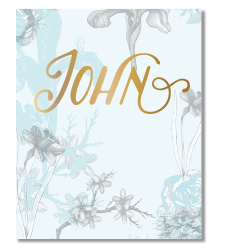 Go deeper with today's First 5 by writing in your Study of John Experience Guide. Don't have one? Get yours here!
More Moments:
As Jesus leads us to the Father, He teaches us truth in His Word and fulfills His promises in... Read More
Download the First 5 app to get the full experience