Experience the Power
Lysa TerKeurst
Day: 13 | Plan: John
Today's Reading: John 11
John 11:44 (NIV ) " … Jesus said to them, 'Take off the grave clothes and let him go.'"
The people around Jesus had seen Him do miracles. They had seen Him turn water into wine, open the eyes of the blind, multiply a boy's lunch to feed thousands and many other wondrous things.
But they had not yet experienced the glory of His resurrection power. And they would surely need to know this to understand the grave wouldn't be the final stop after Jesus died on a cross.
So, when Jesus' friend Lazarus died, Jesus waited. One day. Two. Three. And then on the fourth day when Lazarus was not just dead but dead and decaying, Jesus went.
The people were confused at the timing of Jesus.
"But some of them said, 'Could not he who opened the eyes of the blind man have kept this man from dying?'" (John 11:37)
Martha, the sister of Lazarus was also deeply concerned that it was too late.
"But, Lord…by this time there is a bad odor, for he has been there four days." (John 11:39b)
No one thought healing was possible for this dead, dead man. But Jesus possesses a power beyond healing. He possesses resurrection power. And when Jesus called Lazarus out of the tomb, he came.
Now Jesus may not call us out from our physical grave, but there are other tombs He can certainly resurrect us from today. Graves made of unforgiveness and bitterness can bury the life right out of us.
I pray we hear Jesus calling us out of those places, reminding us we have a heart too beautiful for those deadly emotions. We must exchange the rotting grave clothes making our hearts prideful and resistant for the sweet adornments of grace and peace.
Prayer: Father, thank You for the power You have to resurrect the dead to life. Help me remember that because You have defeated death, there is no sin in my life that You do not have the power to defeat. In Jesus' name, amen.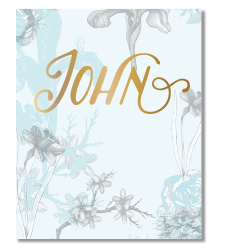 Go deeper with today's First 5 by writing in your Study of John Experience Guide. Don't have one? Get yours here!
More Moments:
When Jesus didn't heal Lazarus while he was ill, it wasn't because He was incapable... Read More
Download the First 5 app to get the full experience