The "Eyes" Have It
Whitney Capps
Day: 11 | Plan: John
Today's Reading: John 9
John 9:25 (NIV) "He replied, 'Whether he is a sinner or not, I don't know. One thing I do know. I was blind but now I see!'"
The Pharisees, the religious leaders of the day, were always trying to get ammunition on Jesus that would allow them to discredit Him at best, vilify Him at worst. Here in John 9, we discover He had healed a man born blind. Rather than focus on the gracious, personal miracle, the Pharisees wanted to crucify Jesus for healing on the Sabbath, a day religiously protected for rest and worship.
Interrogating the man and his parents, they seek to discredit their story and silence their testimony. Is our world so different today?
Have you ever been exposed to this kind of hostility for your faith? Do you follow current events to see the increasing antagonism toward those who follow Christ?
It is easy to feel criticized, attacked, victimized or hopeless. But don't miss the miracle. It goes beyond physical healing. As the chapter closes, Jesus goes to find this man who has been cast out of their circle and does something maybe even more miraculous than giving Him sight. Jesus reveals Himself as the "Son of Man," (John 8:35-37) a term that identified Him as the Savior. Jesus wasn't satisfied to just heal the blind man physically, but to encourage his testimony and strengthen his faith.
If you feel alone in your faith, doubted, criticized or left out, be encouraged. Jesus sees you, and He wants you to see Him. Really see Him. Look to Him to encourage your faith and give you spiritual vision for what He is doing in and through you.
Prayer: Father, I want to see You. I want to see what You are doing in my life. I want to see others the way that You see them. Help me to sense what my eyes cannot see, that You are with me, that You are for me, and that You have a plan for my life. In Jesus' name, amen.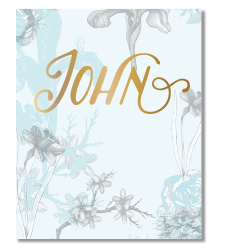 Go deeper with today's First 5 by writing in your Study of John Experience Guide. Don't have one? Get yours here!
More Moments:
In this story about Jesus healing a blind man, the Pharisees began to question Jesus'... Read More
Download the First 5 app to get the full experience