Location:
/Ezra and Nehemiah/
Ezra and Nehemiah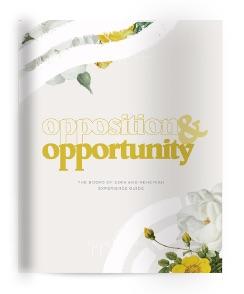 Day: 1
Plan: Ezra and Nehemiah
The Story of the God of Heaven
Denise J. Hughes
Thus says Cyrus king of Persia: The Lᴏʀᴅ, the God of heaven, has given me all the kingdoms of the earth, and he has charged me to build him a house at Jerusalem, which is in Judah. - Ezra 1
Whenever someone writes a memoir, the opening lines usually begin with the time and place of the author's birth.
Day: 2
Plan: Ezra and Nehemiah
Your Family Tree
Kayla Ferris
Now these were the people of the province who came up out of the captivity of those exiles whom Nebuchadnezzar the king of Babylon had carried captive to Babylonia. They returned to Jerusalem and Judah, each to his own town. - Ezra 2
When my kids were little, I kept a baby book.
Day: 3
Plan: Ezra and Nehemiah
When You're Ready for a New Start
Katy McCown
Now in the second year after their coming to the house of God at Jerusalem, in the second month, Zerubbabel the son of Shealtiel and Jeshua the son of Jozadak made a beginning, together with the rest of their kinsmen … - Ezra 3
When we walked through the door, my memory became reality. The smell alone was enough to remind me.
Day: 4
Plan: Ezra and Nehemiah
Delayed but Not Defeated
Karen McNary
Then the work on the house of God that is in Jerusalem stopped, and it ceased until the second year of the reign of Darius king of Persia. - Ezra 4
Just imagine, God has called you to a specific assignment and you get started. However, before long you experience multi-layered delays.
Day: 5
Plan: Ezra and Nehemiah
No To Naysayers
Nicki Koziarz
But the eye of their God was on the elders of the Jews, and they did not stop them until the report should reach Darius and then an answer be returned by letter concerning it. - Ezra 5
Naysayers can be the most discouraging voices in our lives. And discouragement is in the emotional atmosphere of the Jews as we open Ezra 5 today because naysayers have entered their story.
Day: 6
Plan: Ezra and Nehemiah
Celebration Matters
Nicki Koziarz
And they kept the Feast of Unleavened Bread seven days with joy, for the Lᴏʀᴅ had made them joyful and had turned the heart of the king of Assyria to them, so that he aided them in the work of the house of God, the God of Israel. - Ezra 6
In Ezra 5, a search was requested for the original decree to rebuild the temple (Ezra 5:17) and today, in Ezra 6, we see the search is made, and what is needed to be found is found. (Ezra 6:1-3)
Day: 7
Plan: Ezra and Nehemiah
Determined
Melissa Spoelstra
For Ezra had set his heart to study the Law of the Lᴏʀᴅ, and to do it and to teach his statutes and rules in Israel. - Ezra 7
My 22-year-old son recently shared an analogy with me about a guy listening to music with headphones.
Day: 8
Plan: Ezra and Nehemiah
Practice What You Preach
Kellye Schiffner Carver
For I was ashamed to ask the king for a band of soldiers and horsemen to protect us against the enemy on our way, since we had told the king, 'The hand of our God is for good on all who seek him, and the power of his wrath is against all who forsake him.' - Ezra 8
I'm sometimes grateful I don't have a religious bumper sticker on my car.
Day: 9
Plan: Ezra and Nehemiah
Handling Community Sin
Karen McNary
O Lᴏʀᴅ, the God of Israel, you are just, for we are left a remnant that has escaped, as it is today. Behold, we are before you in our guilt, for none can stand before you because of this. - Ezra 9
There's an old African proverb that says, "It takes a village to raise a child."
Day: 10
Plan: Ezra and Nehemiah
When our Faith is Broken
Joel Muddamalle
And Shecaniah the son of Jehiel, of the sons of Elam, addressed Ezra: 'We have broken faith with our God and have married foreign women from the peoples of the land, but even now there is hope for Israel in spite of this.' - Ezra 10
All the king's horses and all the king's men couldn't put Humpty together again.
Day: 11
Plan: Ezra and Nehemiah
A Daughter of the King and a Servant to Others
Denise J. Hughes
O Lᴏʀᴅ, let your ear be attentive to the prayer of your servant, and to the prayer of your servants who delight to fear your name, and give success to your servant today, and grant him mercy in the sight of this man.' Now I was cupbearer to the king. - Nehemiah 1
Whenever we meet someone for the first time, one of the first questions we typically ask is: "What do you do?"
Day: 12
Plan: Ezra and Nehemiah
3 Signs of a Heart Ready for God's Work
Katy McCown
Day: 13
Plan: Ezra and Nehemiah
Catching Glimpses of the Good to Come
Lysa TerKeurst
Day: 14
Plan: Ezra and Nehemiah
Responding to Criticism
Grace Fox
Day: 15
Plan: Ezra and Nehemiah
Scoring for the Other Team
Marlo Schalesky