Moses' Obedience and Pharaoh's Stubbornness
Krista Williams
Day: 7 | Plan: Exodus
Today's Reading: Exodus 7
Exodus 7:13 (NIV) "Yet Pharaoh's heart became hard and he would not listen to them, just as the LORD had said."
Pharaoh was a stubborn man and God, in His Sovereignty, had full knowledge of it. He knew all along Pharaoh was not going to listen to His command. He even told Moses in advance Pharaoh wasn't going to listen. But because God always extends mercy before He executes judgment, He sent Moses and Aaron back to Pharaoh to tell him again to let God's people go.
It took great courage for Moses and Aaron to confront the most powerful man on the planet yet again. But their hearts were obedient to the Lord. So they did just as the Lord commanded and went back to see Pharaoh a second time.
Even after Pharaoh saw Aaron's staff swallow up the staffs belonging to the best magicians in Egypt, he would still not admit God's power was superior. Pharaoh remained unmoved in his position and stubbornly refused to heed God's command. He would not budge.
The more Pharaoh suppressed the knowledge of God and refused the will of God, the harder his heart became. (Romans 1:18-21)
When God speaks, people either submit their hearts and obey or they refuse to listen and harden their hearts.
Moses and Aaron heard God and obeyed. Even when they had a difficult assignment, they obeyed. Every time they obeyed God they personally witnessed a mighty display of God's power.
Sure, God could have displayed His power without Moses and Aaron but He instructed them to participate, and they obeyed.
For months, God in His mercy sent Moses and Aaron back to warn Pharaoh and give him the opportunity to repent. But Pharaoh repeatedly chose to resist God's instructions. His stubborn refusal to release God's people brought disaster on Egypt.
As we read the next few chapters of Exodus, we will discover the longer Pharaoh refused to obey God, the more intense God's judgment became.
There is a stark contrast between Moses' obedience and Pharaoh's obstinacy in this chapter.
Are you more like Moses and Aaron or are you more like Pharaoh? Is your heart tender toward the Lord and His commands? Is there some area where He is calling you to obedience? What are you stubbornly refusing to let go of in your life?
The writer of Hebrews warns us that if we hear God speaking, we should not harden our heart in rebellion. (Hebrews 3:8) Why? Like Pharaoh, our arrogance will only invite disaster into our lives.
Prayer: Holy Father, keep me tender to Your commands. I want to hear You speak and respond quickly with whole-hearted obedience. Give me the grace and strength I need to obey when it is hard. I submit my heart and will to You and ask that You break down any barrier of pride in me. In Jesus' name, amen.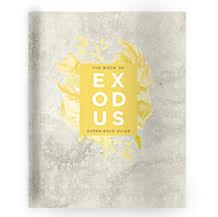 Go deeper with today's First 5 by writing in your Study of Exodus Experience Guide. Don't have one? Get yours here! Digital Download option now available for $8.
More Moments:
The lines were drawn, and the battle began. It would be a battle of fierce intensity. There... Read More
Download the First 5 app to get the full experience