But I Can't Do This, God
Lysa TerKeurst
Day: 6 | Plan: Exodus
Today's Reading: Exodus 6
Exodus 6:12 (NIV)"But Moses said to the LORD, 'If the Israelites will not listen to me, why would Pharaoh listen to me, since I speak with faltering lips.'"
I relate so much to Moses. I too am hesitant to step up to an assignment where I doubt my effectiveness.
Moses already felt like he was failing at the smaller assignment of getting the Israelites to listen to him. So, he was understandably hesitant to go and speak to the intimidating powerful leader, Pharaoh.
However, we must make note of a crucial fact in God's instruction to Moses. He simply told Moses to go tell Pharaoh to "let the Israelites go out of his country," (Exodus 6:11b). That's all Moses was responsible to accomplish. He wasn't responsible for anything but the delivery of the message.
The resistant way Moses responds lets me know he misunderstood his assignment. Moses thought he was to bring enough power in his words to convince Pharaoh. And since his words lacked power before, it's no wonder he thought this was a terrible strategy.
But God never told Moses to bring the power.
Moses was simply told to bring the words.
Moses' job was to be obedient to God. God's job was everything else.
God would bring the power. God would bring the strategy. God would bring all the plans together. And God would certainly bring the victory.
God already assured Moses of this in Exodus 6:1, "… Now you will see what I will do to Pharaoh: Because of my mighty hand he will let them go …"
He wasn't asking Moses to play every part. Moses was only supposed to play his part. And the same is true for you and me. What assignment has God put before you today? Feel encouraged that your job is simply to be obedient to God. God will handle everything else.
Prayer: Lord God, I stand here with arms wide open and empty hands. I need You. I need Your wisdom to know Your assignments. I want to obey You, serve You, and honor You in every way. I know it's because of Your mighty hand that things will be accomplished, strongholds will be broken, and the assignments You have for me will be completed. I don't have to carry the weight of all of this. I just need to walk closely with You and do the part you ask me to do. Everything else I entrust to You. In Jesus' name, amen.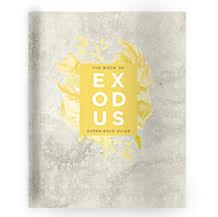 Go deeper with today's First 5 by writing in your Study of Exodus Experience Guide. Don't have one? Get yours here! Digital Download option now available for $8.
More Moments:
The Israelites were God's chosen people, but after years of living as slaves to the... Read More
Download the First 5 app to get the full experience