The Heat Is On
Leah DiPascal
Day: 5 | Plan: Exodus
Today's Reading: Exodus 5
Exodus 5:22-23 (NIV) "Moses returned to the LORD and said, 'Why, LORD, why have you brought trouble on this people? Is this why you sent me? Ever since I went to Pharaoh to speak in your name, he has brought trouble on this people, and you have not rescued your people at all.'"
If I just follow God's plan, everything should go smoothly, right?
I wonder if that is what Moses was thinking as he made the long trek from Horeb to Egypt with his brother, Aaron.
God had already appeared to Moses and given a specific plan, along with a promise that He would deliver the people of Israel from Egypt and give them the promised land of Canaan.
And when Moses told the elders of Israel all about God's plan, they immediately believed and worshipped God. (Exodus 4:30-31) Surely this was a confirmation to Moses that he was headed in the right direction and on track with God's plan.
But when Moses stood before Pharaoh, the ruler of Egypt, he received a completely different response.
Instead of acceptance, Moses faced opposition as Pharaoh denied God's existence and refused to release the Israelites. (Exodus 5:2)
Instead of things going smoothly, the situation got worse as Pharaoh punished the Israelites and made them work harder. (Exodus 5:6-8)
Instead of experiencing faith, doubt took center stage in Moses' heart and made him question God's love and promises of deliverance. (Exodus 5:22-23)
Just like Moses, we, too, may encounter a crisis of faith if our journey comes to an abrupt halt when we face into resistance or conflict, rather than acceptance. Sometimes we can doubt God's promises, motives and yes, even His love for us.
Facing opposition is hard. And when situations get worse instead of better, we may wonder if we misunderstood God's assignment or whether He's really on our side.
Our faith can start to dwindle as doubt and discouragement pushes its way into center stage of our hearts and minds.
Like Moses, let's be sure to go straight to God with our questions and concerns. When things don't turn out like we planned, let's seek God for answers that will bring clarity and instruction to our troubling situation.
God doesn't mind your tough questions. He would much rather have an authentic relationship with you, instead of one that is held together from a distance. God is eager to help you work through any doubts and hurt feelings when you go to Him.
Because of Jesus, we now live under the New Covenant of Grace and can draw near to God in confidence, so that we may find mercy and favor to help us in our time of need. (Hebrews 4:14-16)
God can certainly handle any concerns no matter how big or small. In fact, He wants you to bring your concerns to Him because He cares for you. (1 Peter 5:7)
Prayer: Heavenly Father, I want to come to You with my problems and not feel like I have to run to others for their advice or opinions. Help me to remember You are always able to help and listen when I'm struggling. When opposition comes, give me Your peace and Your strength, so that doubt has no way to creep in. In Jesus' name, amen.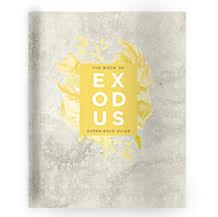 Go deeper with today's First 5 by writing in your Study of Exodus Experience Guide. Don't have one? Get yours here! Digital Download option now available for $8.
More Moments:
When God first gave Moses instructions to go to Egypt, He said Pharaoh would oppose the idea and... Read More
Download the First 5 app to get the full experience