From the Altar to the Cross
Wendy Blight
Day: 38 | Plan: Exodus
Today's Reading: Exodus 38
Exodus 38:1a (NIV) "They built the altar of burnt offering."
God specifically chose a man named Bezalel to handcraft many of the furnishings in the tabernacle, including the altar of burnt offering (bronze altar) Moses speaks of today. Scripture says God filled Bezalel with His Spirit of wisdom, understanding, knowledge, and with all kinds of skills. (Exodus 31:1-2) It was at this bronze altar that the priests offered the blood sacrifices required under the law.
After Bezalel's hands carved every intricate detail according to the exact specifications God gave Moses, they placed the bronze altar on the east end of the outer courtyard, just past the only entrance into the tabernacle. God had specifically instructed Moses that there be one way, and one way only, to access the bronze altar and the inner courtyard where God dwelled in the Most Holy Place.
The reason. Sin. Sin separated God from His people. In Leviticus 17:11, God set forth one way, and one way only, to deal with sin, "… the life of a creature is in the blood, and I have given it to you to make atonement for yourselves on the altar; it is the blood that makes atonement for one's life." No one could approach God without making amends for their sin through a blood sacrifice. God in His mercy did not ask for a human sacrifice. He accepted a substitute. He allowed animal sacrifices to cover the people's sin. The priest sacrificed these animals on the bronze altar.
I can't help but wonder if God gave Bezalel a glimpse of Jesus as he carved and crafted the altar. Perhaps Bezalel understood that the bronze altar foreshadowed the cross that was to come thousands of years later. Did he discern that one day Jesus would use this same image of there being only one entrance to the tabernacle when speaking of Himself: "I am the gate; whoever enters through me will be saved" (John 10:9a)? The sole entrance into the tabernacle foreshadowed the truth for us that there is only one way to the Father. Did Bezalel know that God's divine design pointed to Jesus' blood sacrifice … the ultimate and final substitute for our sin?
Jesus was enough. No more altars. No more animals. No more substitutes. Jesus took away our sin once and for all. He decisively accomplished on the cross all that was needed for us to be forgiven and drawn back into right relationship with God.
Hallelujah! In Jesus, sin was forgiven. Guilt was atoned for. Heaven's doors are now wide open. Forgiveness is available to anyone and everyone who believes … who takes Jesus' nail-scarred hand in theirs. It is finished!
Prayer: Heavenly Father, thank You for no longer requiring us to bring sin offerings to the bronze altar. Instead, You sent Jesus, Your only Son, who, because of His great love for us, willingly chose to become the perfect Lamb, the final sacrifice. As I hold Jesus' nail-scarred hand in mine, tender my heart today to understand the depth of Your love and receive it in all its fullness. And may I live in the fullness of that love and in the abundance of all it offers. In Jesus' name, amen.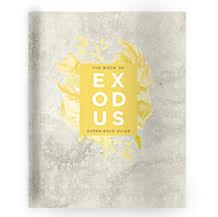 Go deeper with today's First 5 by writing in your Study of Exodus Experience Guide. Don't have one? Get yours here! Digital Download option now available for $8.
More Moments:
Read Ephesians 2:10. God knew from the beginning of time Bezalel would be the one to carve the... Read More
Download the First 5 app to get the full experience