Skilled and Willing
Whitney Capps
Day: 36 | Plan: Exodus
Today's Reading: Exodus 36
Exodus 36:2 (NIV) "Then Moses summoned Bezalel and Oholiab and every skilled person to whom the LORD had given ability and who was willing to come and do the work."
We've spent days studying the construction of the tabernacle. It was the wilderness church⎯the place where God met with His people. This was incredibly significant work.
The individuals God called, He uniquely equipped to build His tabernacle. We learned in Exodus 31 that when God called Bezalel and Oholiab to work, He also filled them with His Spirit. The Spirit provided them "with wisdom, with understanding, with knowledge and with all kinds of skills" (Exodus 31:3b) to do what He had commanded.
Additionally, Exodus 36 gives us valuable commentary on the attitudes of those who were equipped. It offers a cue as to how we should we serve God's Church in our generation. We read that in addition to being "skilled," those who worked on the articles of the tabernacle were "willing."
The Bible is clear the abilities of the workers were not their own. They were infused by the Holy Spirit with skill and wisdom. Their talent, artisanship, creativity, and dexterity were from the Lord. While they received these gifts from Him, the gift they brought was their willingness.
Does this mean the work was never tiring or frustrating? Does this mean their fingers didn't cramp as they cast the silver bases, fabricated the frames for the walls, or sewed the yards and yards of curtains? I doubt it.
God gave them the skill, they brought the "will." Is there an area of your life where you are asking God to make you willing? Perhaps He's entrusted you with the skill. He may now be asking you to give Him your will.
Prayer: Heavenly Father, I confess that I often delay my obedience to something I feel called to, but don't want to do. I've languished in disobedience waiting for You to make me willing. Like the workers in today's passage, I want to bring You my willingness. I want to gladly use the gifts You have given me to build Your Church in this generation. In Jesus' name, amen.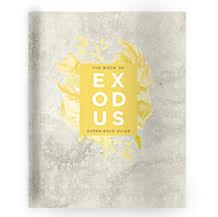 Go deeper with today's First 5 by writing in your Study of Exodus Experience Guide. Don't have one? Get yours here! Digital Download option now available for $8.
More Moments:
Only a few of the many, many craftsmen who worked on the tabernacle are named specifically in... Read More
Download the First 5 app to get the full experience