Show Me Your Glory
Wendy Blight
Day: 33 | Plan: Exodus
Today's Reading: Exodus 33
Exodus 33:14 (NIV) "The LORD replied, 'My Presence will go with you, and I will give you rest.'"
Exodus 33 opens with God delivering distressing news. Due to the Israelites' continued disobedience of and disregard for God's law, God informed Moses He would not go with them to the Promised Land. Moses immediately cried out to God in prayer: "Remember that [we are] your people … If your Presence does not go with us, do not send us up from here" (Exodus 33:13b, Exodus 33:15a).
Because of God's infinite love for Moses, He graciously relented and promised to go with the Israelites. Moses then made a bold request: "show me your glory."
I remember the first time I read those words. I had no idea what Moses was talking about. How could God show His glory?
The word "glory," kabod in Hebrew, speaks of the singular splendor of God. His unmatched magnificence. His incomparable power.
Moses wanted to see God's splendor, His power. But hadn't he already seen that? Up to this point, Moses had experienced supernatural physical manifestations of God's presence in the miracles in Egypt, the burning bush, the pillar of cloud and fire in the wilderness, the thick smoke-filled cloud on Mount Sinai. He had engaged in intimate conversations with God in the Holy of Holies.
Now, Moses wanted more, so much more from God, and their intimate relationship and Moses' increasing faith through those years gave him the courage to ask. He specifically asked to see God's glory. Not just a physical manifestation of God's presence like smoke and fire. Moses wanted a taste of the divine.
Moses was asking for Shekinah glory, the "dwelling glory," of God. A presence that is life-transforming. He wanted the very presence of God to envelop him. To feel down to the marrow of his bones the glory of God. To look upon His grandeur, His goodness, His holiness, His divinity.
And as much as God probably wanted to grant Moses what he asked, He couldn't. His brilliance, His radiance is too much for human eyes. But our loving God found a way to give Moses a taste of what he asked. He hid Moses in the cleft of a rock, covered his face with His hand, and allowed Moses a glimpse of His glory. To see the backside of His glory. And although Moses did not get everything he asked, we must never forget that the very goodness of God passed by Moses! God proclaimed His Name and His Sovereignty in Moses' presence.
What's so remarkable is God intended for us to experience that same glory in our midst. So when the time was right, God sent His glory to earth in the form of His Son, Jesus. Jesus' very name, Immanuel, means "God with us."
And if that isn't enough, Moses experienced the dwelling presence of God. But we, as the New Testament children of God, receive the "indwelling" presence of God. Jesus, in the form of God's Holy Spirit, comes to live inside us!!
What God has given us is extraordinary! Let's pray as Moses prayed … "Show us Your glory, God. Show us Your glory."
Prayer: Oh, Father, thank You that You do more than allow us a glimpse of Your glorious magnificence, You gift us a part of that magnificence when You seal us with Your Holy Spirit. It is ours always and forever, never to be taken away! Lord, as my relationship deepens with You and my walk with You becomes more intimate, I pray as Moses prayed, "Show me Your glory, Lord, show me Your glory!" In Jesus' name, amen.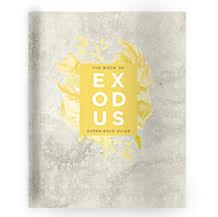 Go deeper with today's First 5 by writing in your Study of Exodus Experience Guide. Don't have one? Get yours here! Digital Download option now available for $8.
More Moments:
Let's revisit Moses' first meeting with God in Exodus 3:6. While Moses was tending... Read More
Download the First 5 app to get the full experience