God's Workers
Krista Williams
Day: 31 | Plan: Exodus
Today's Reading: Exodus 31
Exodus 31:2-3 (NIV) "See, I have chosen Bezalel son of Uri, the son of Hur, of the tribe of Judah, and I have filled him with the Spirit of God, with wisdom, with understanding, with knowledge and with all kinds of skills."
Have you ever been involved in a construction project like building or remodeling a home? If so, you know you need a plan, materials, and workers. The building of the tabernacle was no different.
God gave Moses a detailed plan for the tabernacle and its furnishings. He showed Moses how He wanted everything done. He even gave Moses the supply list and instructed Moses to collect the materials from the people. (Exodus 25) Today we learn that God also chose the workers and equipped them for the task.
God picked Bezalel to be the foreman of His project and specifically anointed him with wisdom, understanding, and the necessary knowledge to do the job God was calling him to do.
God also appointed and anointed Oholiab to assist Bezalel. And God gave every craftsman involved in this project the aptitude and skills they needed to do God's work God's way.
When God wants to get a job done, He calls the workers, and He equips them to do it. He also calls others to come alongside to help.
God is always at work and there is much that needs to be done for His glory. Work that involves building and strengthening His Church. Work that involves His people. Work that requires His anointing.
Where is He calling you to serve Him? How could God use you to strengthen and build up the body of Christ?
He will give you what you need. He will equip you for the task He has given you to do.
He always equips those He calls.
Just like with Bezalel, Oholiab, and all the workers, the Holy Spirit will fill you and fit you for service.
No matter the job. No matter the task. God will put into you what He wants to get out of you!
Prayer: Lord, thank You for Your Holy Spirit that fills Your servants for service. I pray right now that You would overflow us with the ability, intelligence, knowledge, and skills we need to serve You today with excellence. Equip us, Lord. Inspire us. In Jesus' name, amen.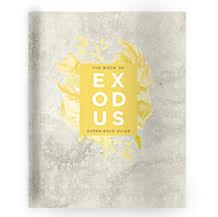 Go deeper with today's First 5 by writing in your Study of Exodus Experience Guide. Don't have one? Get yours here! Digital Download option now available for $8.
More Moments:
After God called and commissioned His craftsmen, He told them above all else, keep the Sabbath.... Read More
Download the First 5 app to get the full experience